Some people call it Channel Origination, some people call it Channel Assembly. We just call it Virtual Channel, by broadpeak.io.
Today, we are excited to announce the general availability of the broadpeak.io Virtual Channel application.
What is it?

A virtual channel is a Live stream built out of a list of linear and non-linear sources, which are typically already available to the end user in different forms – SVOD, Events, Trailers, Slates…
This application is the perfect answer to the growing demand for tailored video content. It quickly and easily creates and originates 24/7 linear curated channels.
Whether you need pop-up channels for short-term events or personalized scheduling for your viewers, Virtual Channel is the way to go if you are looking for a short time-to-market without having to bear the cost of a new media playout chain.
How does it integrate in your ecosystem?

Below is a diagram of how broadpeak.io interacts with other modules from the eco-system: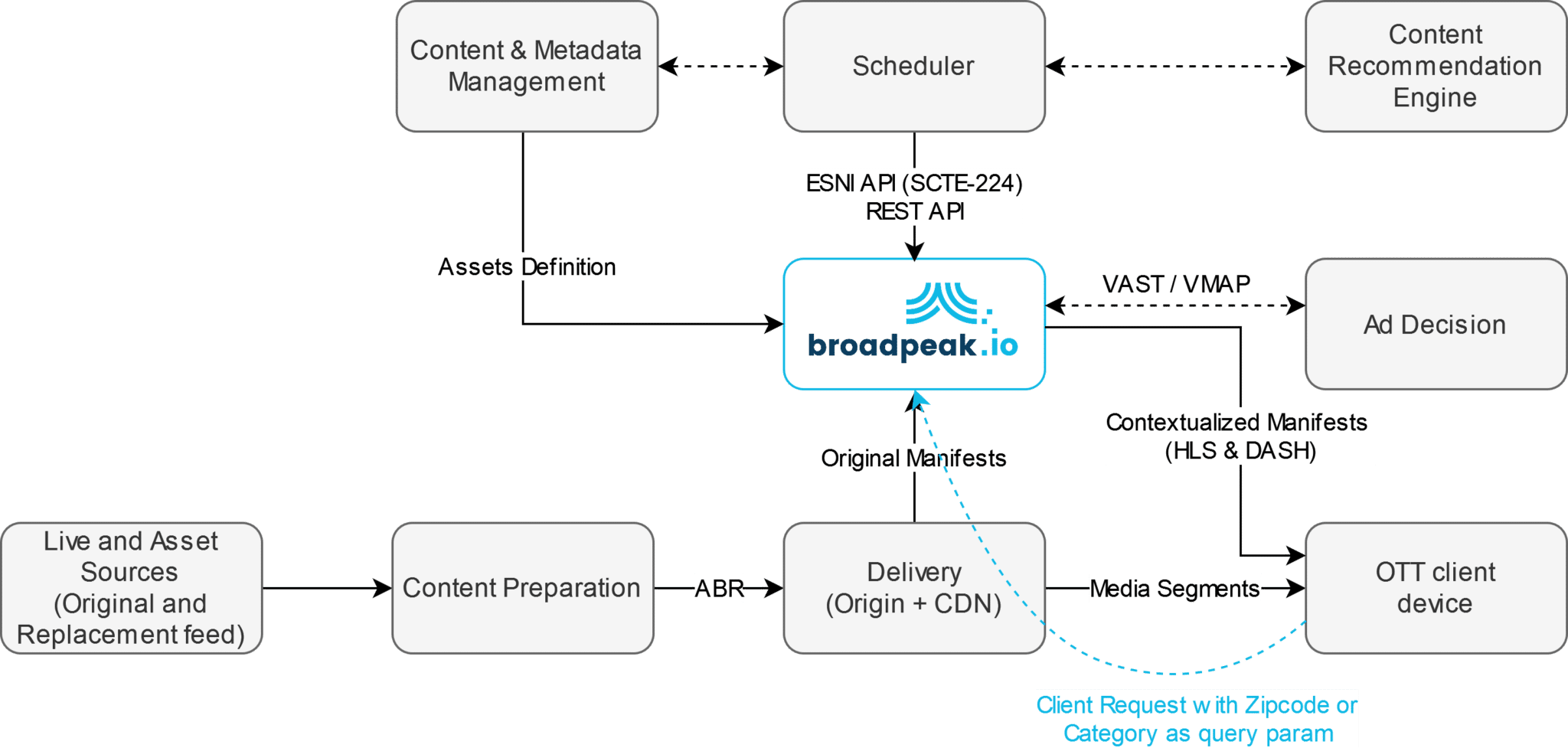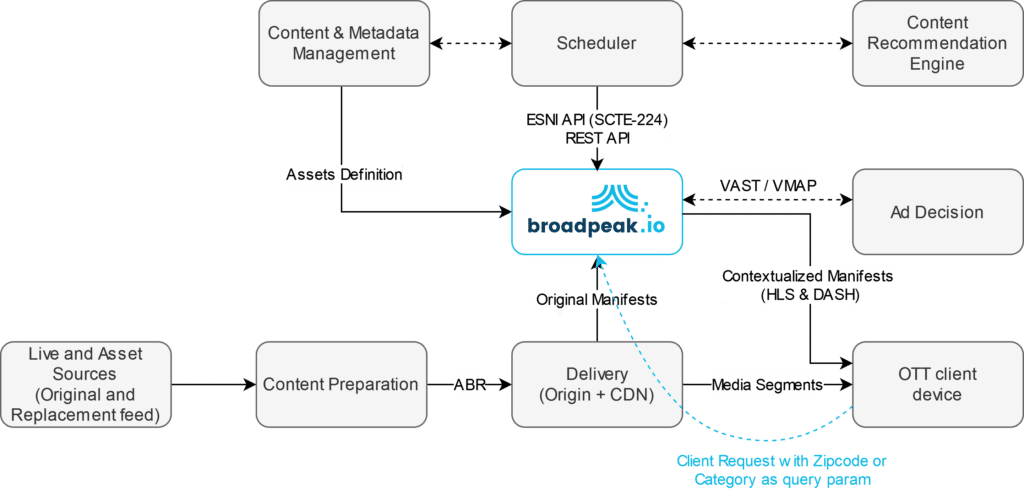 What are the benefits?

For you:

Virtual channels make it easier and more affordable to add choice, value, and revenue to your video offerings.
Get back your viewers' attention from Instagram Reels, TikTok, Snapchat, etc. by proposing more personalized content.
Leverage targeted audiences when you sell your Ad Inventory (e.g. FAST)
Use as a Backup/Disaster Recovery. It is also a good way to give life to old content.
Stream more relevant content at scale (i.e., to all your end users and at any time).

For your viewers:

People love the "lean back" experience: there are times when people don't want to look for content and seek to be entertained right away. The benefit of a virtual channel is that it can bring even more personalized content to viewers based on what they like and what they are really passionate about. No need for them to look for specific content for too long. They can just zap to the channel with the topic they like. You are going to raise engagement.

In general:

You will enable greener streaming. By using manifest manipulation, you can now create channels on the fly without the need of a full playout solution: no need to upload nor ingest content, no need for media decoding and no need for media re-encoding. This process results in a significantly lower carbon footprint, faster deployment, and cost savings.
How is broadpeak.io's Virtual Channel different?

Based on Broadpeak manifest manipulator, which has been deployed by several global Content and Service Providers, Virtual Channel is bringing a full feature set for anyone looking to increase the monetization and the engagement of the content they own.
broadpeak.io differentiates itself by proposing a solution that allows highly curated content – it can create 1 personalized channel per user – at scale – within minutes. Using our technology combined with the agility of the cloud, we ensure the delivery of highly engaging content at scale. Plus, with a real self-serve SaaS and therefore immediate access to the technology, your ability to bring content to your Audience can get as fast as social media's. Test for free: the Free Trial Account plan enables free of charge testing for one month. You can immediately view the result in the embedded webapp player or your device and client applications.
What features are available?

Linear mode: you will be able to not only assemble on-demand content, but also pre-existing channels of an event.
Slate: not exactly the right duration to manage the time windows you want to be on-air? No problem, we can help you use slates to fill your gaps.
Channel Schedule: by using our APIs, the scheduling will be easy to automate.
Channel Policy using the Content Replacement app: need to deal with specific policies based on the location of your viewers or the devices they use? Let our Content Replacement app handle that for you.
Multi audience: Using query parameters, one channel can have slight differences. Typically, it helps if you have several kinds of customers and want to anticipate their preferences.
Running time slot extension (e.g. live event overtime): our schedule can be updated on-the-fly, letting you easily manage any last minute change of programming.
Coming soon:

DAI (Dynamic Ad Insertion): build your FAST (Free Ad-Supported TV) by adding DAI in the mix.
Loop mode: repeat a schedule over several periods of time.
Timeline view: easily visualize a timeline in the webapp.
What use cases can be enabled by Virtual Channel?

FAST

A lot of actors in our industry have on-demand video content (and associated rights) but have a hard time finding distributors.
It's an easy way is to create a channel which can be part of a complete line up.
In this case, they use a Virtual Channel service to create a linear channel.

Pop-up channel

Provides a way to launch a new brand with complimentary content that is truly fan-centric for a target audience.
To prepare the arrival of new content, pop-up channels can be generated to show all the prequels in a timely method so viewers can remember what happened in previous episodes.
Local, national or international events, planned or unplanned, will generally trigger significant interest in related themes from viewers. Leverage eyeballs' time by recycling, curating and scheduling related content.

Complementing events

Another use case is performers during live events. Since their performance is typically limited in time, these individuals lose opportunities to monetize both before and after the event. With Virtual Channel, they can instead create a schedule of their events with replays, documentaries, etc. to continue to monetize asynchronously. They want to give the fans a chance to keep watching after the game.

Personalized channels

Integrate a Content Recommendation engine and start proposing channels built specifically for every one of your end users.
Based on their tests, push them to a channel which will always satisfy them.

Miscellaneous

Thematic channels
Regional/local channels
Influencer channels
Fan channel/Team channel
IP playout of linear channels
How to use Virtual Channel?

We have created Knowledge Center articles to guide you – please check here.
When it is available, and for how much?

The application is currently fully available.
Pricing

It is public and transparent (link)
It becomes very competitive as the number of variants increases and you contract in our Enterprise plan.
It is the same whether you use asset or live content.
It is the same wherever you stream from: the price is global and uniform.

What's next?

We have several features in the pipe. We plan to propose a GUI to let you schedule the virtual channel in a graphical way.
We are also hoping to hear some of your ideas, please contribute here!
To conclude, we are very excited to bring the industry the capacity to propose a "lean back" experience dedicated to every single viewer. We believe that this application can be a great way to get attention off of Social Media and back to the Main Screen by pushing more curated content, based on the taste of every single viewer.
Please do not hesitate to share your feedback or contact us if you have any questions!
Streamingly yours.
The broadpeak.io team