As the streaming market accelerates its shift towards ad-supported models such as FAST, and as the cost of producing or acquiring content keeps increasing, monetization of live streams has become critical for broadcasters.
While the ad tech ecosystem is developing sophisticated monetization schemes such as ad routing, header bidding strategies, hybrid ad tracking options, etc… the whole move to DAI is often blocked by a well-known video source problem: the lack of in-band ad break signaling. Indeed, many broadcasters have not yet been able to implement or upgrade their playout, automation, encoding, and packaging/origin platform to ensure their linear source could be produced with the appropriate SCTE 35 cue triggers. Those markers are essential as they guarantee that downstream ad insertion services can seamlessly and frame accurately insert or replace ads with a fully controlled QoE.
From a high-level standpoint, two options can be considered by content providers producing linear workflows with ad breaks:
Option
Scheme
Description
1
In-band signaling
Use of SCTE 35 cue triggers (DASH or HLS manifest tags)
2
Out-of-band signaling (use an SSAI with an API)
Ad break timing & metadata sourced from scheduler or EPG
Ad break timing & metadata sourced from automatic ad break detection video service
Conceptually, those two options can be seen in the following way: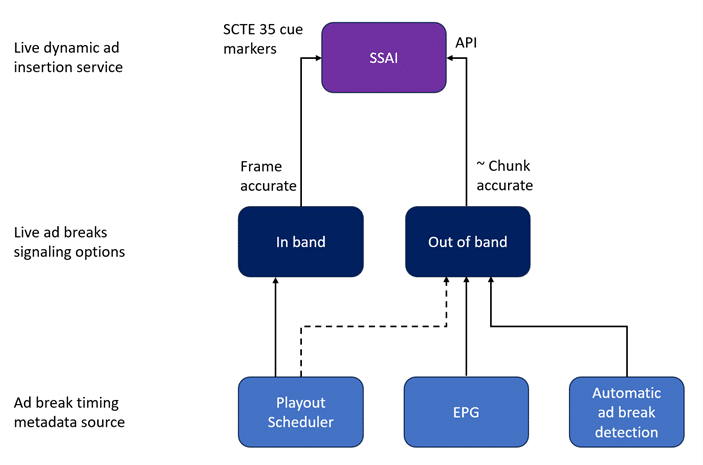 Option 1: the ideal scenario
This scheme is recommended as it provides native signaling for ad placement opportunities and maximizes end-user QoE with frame-accurate ad breaks.
Those markers are well-defined by the following CableLabs SCTE standard specifications:
In practice, a content provider can insert multiple levels of event tags as shown on the following diagram (extract from the SCTE 35 DPI Cueing message standard):

For anyone who only has 5 min to understand SCTE 35 for streaming and monetization, the "SCTE-35, A standard for Live Video In-Band Event Signaling" blog gives a good overview. In parallel, concrete examples of tags expected in manifests can be found here for DASH and HLS.
In some instances, add-on signaling solutions exist on the market (such as Middleman's AdIT Live, for example). Those services help programmers and distributors to ensure they can insert and leverage ad placement opportunities.

Option 2: take a shortcut
EPG
The idea of this option is to enable any broadcaster or linear programmer to start monetizing even without in-band signaling cue triggers while working towards option 1 in parallel. This scheme is often left over as it has obvious limitations in terms of QoE due to precision and stream conditioning constraints. However, it can be a simpler and faster starting point from a time-to-market standpoint. The idea is to leverage alternative scheduling metadata sources to feed an SSAI service through an out-of-band API.
In the case of broadpeak.io, the principle is to use the Virtual Channel app with the live source as a default base live stream (link). Once an ad server is defined for the Virtual Channel service, a simple API call is sufficient to create an ad break slot (link). The following table shows what this action would look like through the web app and the API:
While creating an ad break is straightforward through this API, the timing and content conditioning questions remain valid. In most cases, the ad break timing precision is limited to the segment accuracy level. The following diagram shows what scenarios to consider when dealing with such an approach: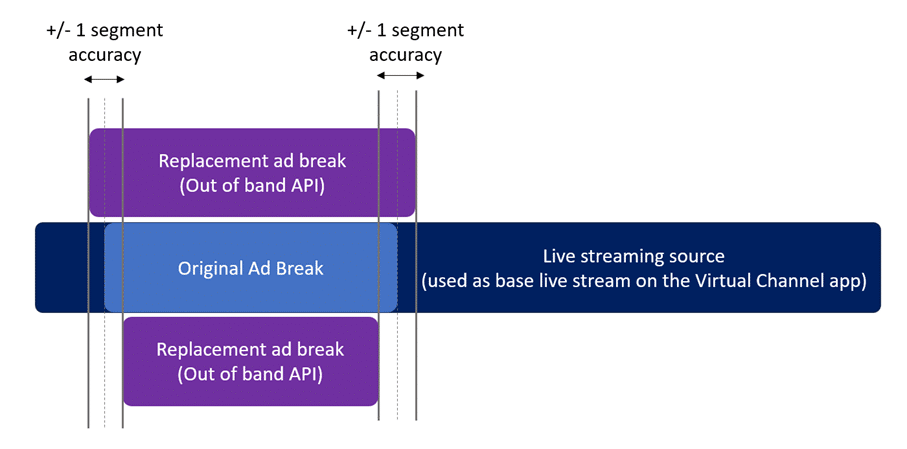 Content providers or distributors often have access to an EPG, which is a good metadata source for linear schedules. Many alternative sources, such as Gracenote (link), can also be leveraged. Interestingly, companies such as Nielsen/Gracenote and MediaDistillery are also teaming up to improve EPG accuracy, although focused on replay workflows for the time being.

Automatic ad break detection
Even if this option is not as deployed as the first two schemes (playout scheduler or EPG source), it is catching up quickly with the progress of Machine Learning and Artificial Intelligence technology. When combined with jingle detection and audio silence detection, those services enable a ratio of ad break detection with increasing confidence. Assuming delay (introduced by live processing latency) is not a problem, and EPG data is not available (or wildly inaccurate), those tools can be a concrete starting point worth considering. The following technology providers are examples of video processing services providing automated detection and timing (with VideoAI focusing initially on VoD):
Conclusion
As discussed above, not having in-band SCTE 35 cue triggers is no longer a valid reason to stand still. Many alternative options are now available and can help you get started today.
From a time-to-market standpoint, starting with an out-of-band API approach on a low audience or long-tail channel can be a brilliant move. You can familiarize yourself with the ad tech ecosystem and anticipate many challenges or questions unrelated to the ad break insertion scheme. You will be able to move forward on fundamental questions such as the ones below and be ready with your target ecosystem when you can finally move to in-band SCTE-35 cue markers: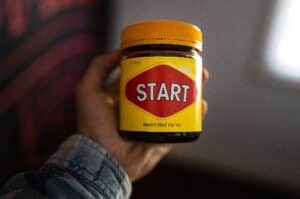 "How can I create the proper inventory, what is the value of my inventory, how can I generate demand from the buy side for my audiences, what ad server SSP should I choose for my market, should I go server-side or client-side ad tracking, etc… "
If you would like to know more about broadpeak.io SaaS monetization solutions, or if you want us to do a quick demonstration with your live stream, feel free to reach out to us: we'll be more than happy to engage! You can fill out this form, email us (contact@broadpeak.io), or chat online on our website or knowledge center.
Picture from Robert Bye on Unsplash