Throughout this blog series on FAST, we gave you an overview of the FAST ecosystem plus tips and tricks on how to launch a FAST Channel. From content to programming and finally distribution, we took you through the process of creating a FAST Channel.
Our job would not be complete if we were not addressing the ultimate goal of a FAST Channel, that is garnering viewership and monetizing a video ad inventory.
What is the business model behind FAST?
After years of SVOD dominance where streamers and subscribers alike built a billing relationship (e.g. you pay 9.99€ for unlimited use of my service), FAST brings a new paradigm as it is free.
Exit strategizing about pricing and setting up a billing system, platforms, channels and viewers enter in a new relationship based on data and advertising.
Let us explain.
Even if it is not pitched like that, since the viewer does not pay to watch content, he/she effectively becomes the product.
In exchange for watching free content, the viewer agrees to be served ads and for its data to be collected (in compliance with the relevant privacy rules). The publisher's role is then to sell the ad inventory, serve ads and generate ad revenues.
What is the ad inventory?
The ad inventory is the total amount of space that a publisher has available for advertisements at any given time.
In FAST (like in other video medium), the ad inventory is made of (but not only) video ad breaks inserted within the viewing experience.
An ad break can take the form of pre-roll (before a program starts), mid-roll (during the program) or post-roll ads (once the program ends).
On FAST Channels, multiple ads are grouped and played back-to-back during a single ad break (aka ad podding). Within the ad pod, you have a number of ad slots up for sale.
Here is an example of what an ad-based video experience can look like:

We're starting to see innovative ad formats beyond in-stream video ads: split screen ads, dynamic overlays, branded ad slates or sponsorships.
What is the ad load in FAST?
The ad load within a given hour varies from platform to platform, channel to channel. Program length, content type /genre or seasonality also come into play and of course local regulations.
By way of example, here are the ad load practices of several US FAST Platforms:
| | |
| --- | --- |
| Samsung | 6-8 minutes per hour |
| The Roku Channel  | 8 minutes per hour |
| Xumo | 7-10 minutes per hour |
| Tubi | 4-6 minutes per hour, occurring every 12-15 minutes at 3-5 ads per pod. |
Regardless of the platform, the spirit is that the FAST ad load must remain lighter than on Traditional TV as it is all about attracting eyeballs away from TV to FAST and a big argument behind that is saying that you have an improved ad experience in FAST.
The ad load is a fine balance to find though.
One must consider:
Offering a great video experience to viewers,
Giving publishers & platforms the opportunity to generate revenues, and
Enabling advertisers to buy space to promote their brands, products and services.
Platforms and channels must monitor closely the ad load to ensure viewers' satisfaction and channels' Net Promoter Score remain intact. Whether you are in a free, an ad free or an hybrid environment impacts the viewer's ad tolerance too.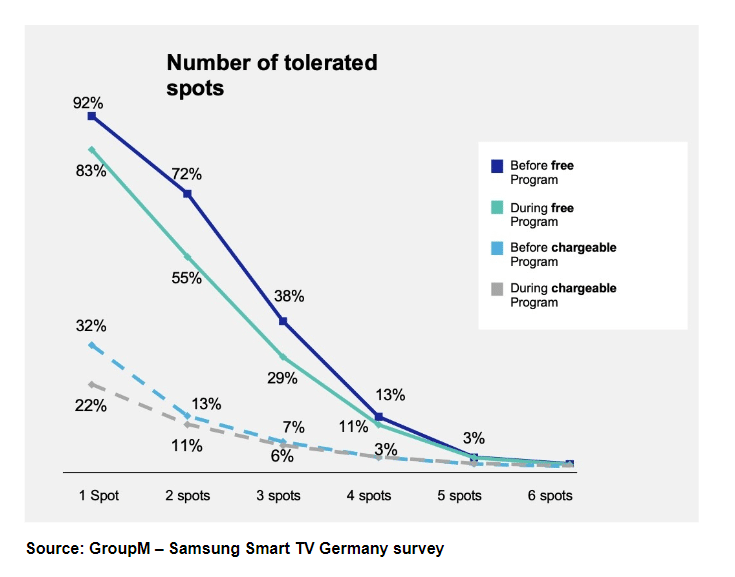 So far, the FAST ecosystem has done a great job at providing viewers with an enjoyable ad experience.
Case in point with the results of a UK survey where FAST ads scored the most positive associations (compared to Linear TV and BVOD) across 6 criterias: trustworthy, triggers curiosity, exciting, relevant, enjoyable, premium.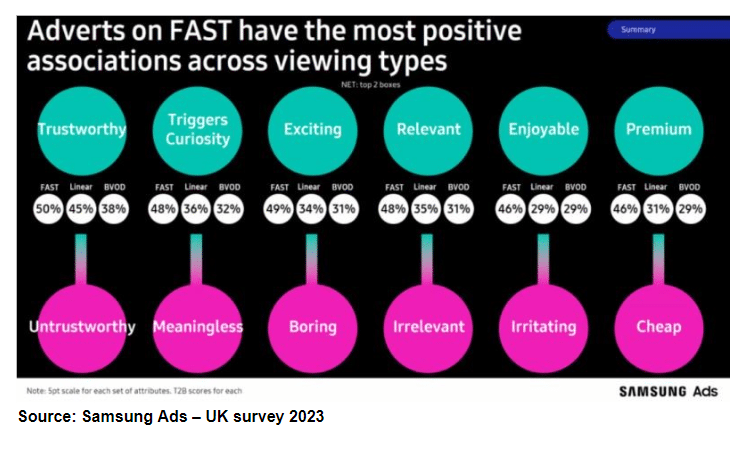 Who takes part in monetizing the FAST ad inventory?
There are two main monetization models in place on FAST Platforms.
Revenue-share: the FAST platform (or the channel) keeps 100% of the ad inventory and sells it. The revenues are then split between the platform and the channel.
Inventory share: the FAST platform and the FAST channel share the ad inventory and each is tasked with selling its portion of the inventory. Each party keeps the corresponding ad revenues.
There is a patchwork of use cases today and rightfully so.
Some channels do not have the bandwidth, nor the expertise to manage ad sales, even more so if the channel (or network of channels) is available globally. They prefer to rely on the platform to monetize the inventory.
Others are advertising powerhouses (e.g. broadcasters or digital native brands) for whom FAST is no exception, they keep control over their inventory.
The same diversity of use cases can be seen with FAST platforms.
A platform like Pluto TV sells the inventory in the US but partners locally to sell the inventory in international markets (e.g. Pluto TV partnered with Viaplay in the Nordics, Corus in Canada).
Most recently, we have witnessed the rise of a new breed of partners involved in monetizing the FAST inventory: FAST technology vendors.
Some companies go beyond providing technology stacks to their channel and platform partners. They too are building ad sales muscles to offer an end-to-end solution to their customers (from channel creation, distribution, monetization and analytics).
Who sells the inventory matters though. Why?
The more data you have, the more valuable the inventory is, ultimately commanding higher CPMs and fill rates.
The beauty of FAST is indeed that viewers benefit from a personalized ad experience based on who they are and how they behave on the platform.
To achieve this level of personalization, you need to put data to work.
As it stands today, FAST Platforms have proprietary data, FAST Channels do not. They access a subset of data made available by FAST platforms which is said to be very little.
Under a revenue-sharing model, you essentially operate in the dark. Your job is to attract eyeballs that the platform will go on selling.
Hence why channels push more and more for inventory deals where they at least have deeper insights into the portion of inventory they sell. But even in this scenario, the channel accesses less data than the platform itself.
How does it work technically?
Monetization in FAST leverages SSAI (Server Side Ad Insertion) technology to insert/replace advertisements in streams. Services such as broadpeak.io are providing the engine, connected to an Ad solution in charge of selling the inventory available.
The SSAI service is, in fact, inserting the ad video fragments in the streams for a seamless experience for the viewers. Insertion can be dynamic and can be segmented by audience or by customers.
Most of the time, the SSAI solutions also process the ads to make them fit the original FAST content video for optimal transitions.
Final words – Bring targetable audiences at scale, the money will follow.
There is always a lag between consumer adoption and ad dollar allocation.
eMarketer estimates that although 25% of digital time is spent with CTV in the US, less than 10% of digital ad spending goes to CTV.
FAST will no doubt follow a similar fate, at least at first.
FAST stakeholders have convinced content owners to launch FAST channels as evidenced by the more premium brands entering the space (e.g. DAZN, Warner Bros, NBC Universal or MGM).
Now, it's time to convince agencies and advertisers it's worth their time.
Bring measurable, targetable audiences at scale, the money will follow.
If you've enjoyed this series, feel free to share within your network and don't hesitate to tell us what other aspects of the FAST ecosystem you would like us to dig into.