Understanding the FAST Ecosystem
The Subscription Video On Demand ecosystem is either in the hands of an e-commerce giant (Amazon), pure players (e.g. Netflix, DAZN), independent (Cinedigm, Filmrise) or big media groups (US majors like Disney, NBC Universal, Warner or Paramount; European majors like RTL or ProSieben etc.).
The same names grab most of the media attention when it comes to streaming commentaries.
The reason why SVOD is in the hands of a few is the business model itself. It is expensive to be in the premium subscription business with streaming content costs reaching the 23.2B$ mark in 2022.
SVOD is by nature exclusive and original.
Free Ad-Supported Streaming Television launched with a different premise in mind: non-exclusive library content. This facilitated the entry of a very diverse set of stakeholders who didn't have pockets deep enough for SVOD but had the content know how, the technology and the advertising firepower to get into FAST.
Who are the key FAST platforms operating in the space?
We will not bore you with a list but rather highlight the four categories of active platforms (with examples) as their background determines their FAST strategy.
So let's break it down:
1. The Pure Players Category:
These companies have FAST at the core of their value proposition. They are not tied to a particular device and therefore aim for ubiquitous distribution.
Pluto TV and Tubi are owned by big media groups (Viacom and Fox respectively) giving them the advantage of tapping into an extensive library vault. Other pure players include Xumo, Crackle and Plex.
Pure players can also include the likes of Rakuten TV or Peacock which have a hybrid platform since they offer TVOD/EST, SVOD, AVOD on top of FAST.
For Rakuten TV, the offerings sit side by side, you can rent or buy a movie, subscribe to a SVOD or watch free content, either on demand or live.
Peacock operates differently as you need a subscription to access the service. The tier structure gives you access to a different viewing experience, one with ads (at 5$ a month), one without at 10$. Peacock recently terminated their Free tier but existing subscribers to this tier can still access it without a fee.
We expect more platforms like Peacock to enter the space. It would make sense for streamers like Netflix, Disney or Warner Bros Discovery to include a FAST Channel hub within their services.
2. The Smart TV Category:
Hardware manufacturers took a first 360 turn when they moved from being device manufacturers only to becoming platforms distributing 3rd-party services and now editing their own streaming services.
The most advanced example is The Roku Channel which brings AVOD, FAST, premium subscriptions and its own slate of originals. But through the years, the list grew:
Vizio WatchFree
LG Channels
Samsung TV+
Vidaa Free
Freevee
Youtube has launched an AVOD corner in the US in 2022 and is said to work on a FAST channel line up for this year so expect to see them shake up the ecosystem.
3. The Pay TV/ vMVPD/ MVPD Category:
They weren't at the forefront of the FAST trend but will play a role moving forward as they are master aggregators already.
Fubo TV
Sling TV Freestream
Orange Spain
Waipu TV
Zattoo
4. The Broadcaster Category:
Europe brings a 4th set of FAST players with its commercial broadcasters investing the space. UK-based ITVX curates 20+ channels while French broadcaster TF1 has 50+ channels.
In the US, ABC News was one of the first movers and it is no surprise to see them syndicate their channels to third-party platforms as well as distributing them within their ABC application.
Each category has a different end game
As you can see, we were not kidding when we said that FAST was a diverse ecosystem.
Now this diversity means that each category has a different end game (besides generating advertising revenues of course) when it comes to FAST.
The Pure Players Category: grow and monetize the active user base, boost engagement
The Smart TV Category: grow platforms revenues to complement the legacy hardware business
The Pay TV / vMVPD / MVPD Category: retain existing users and acquire new ones, increase the ARPU and engagement
The Broadcaster Category: retain and grow its audience wherever it may be, monetize it
How many platforms are live and where?
In total, the US has 15+ active FAST Platforms (e.g. The Roku Channel, Vizio, Tubi).
Europe has 10+ FAST Platforms with a mix of local (e.g. ITVX, Molotov Channels, Waipu), regional (e.g. Rakuten TV) and global players (e.g. Samsung TV+, Pluto TV).
In the MENA region, 9 regional players started a FAST channel hub (e.g. Yupp TV, Shahid, Roya TV to only name a few).
Several platforms have a solid market coverage:
Pluto TV is live in 35 countries
Samsung TV+: 24
Rakuten TV: 42
LG Channels: 25
Peacock (7), Freevee (3), Vidaa Free (2), The Roku Channel (3), Tubi (1 but 10 if you count their AVOD platform) are only available in a handful of markets for now.
How many FAST channels exist?
The US market has been covered extensively by Gavin Bridge from Variety. He recently put out numbers for Canada and Australia as well.
As for Europe, Marion Ranchet, Founder of the Local Act Consultancy, did a similar exercise with EU5 markets (France, Italy, Spain, UK and Germany) across key FAST platforms in each market.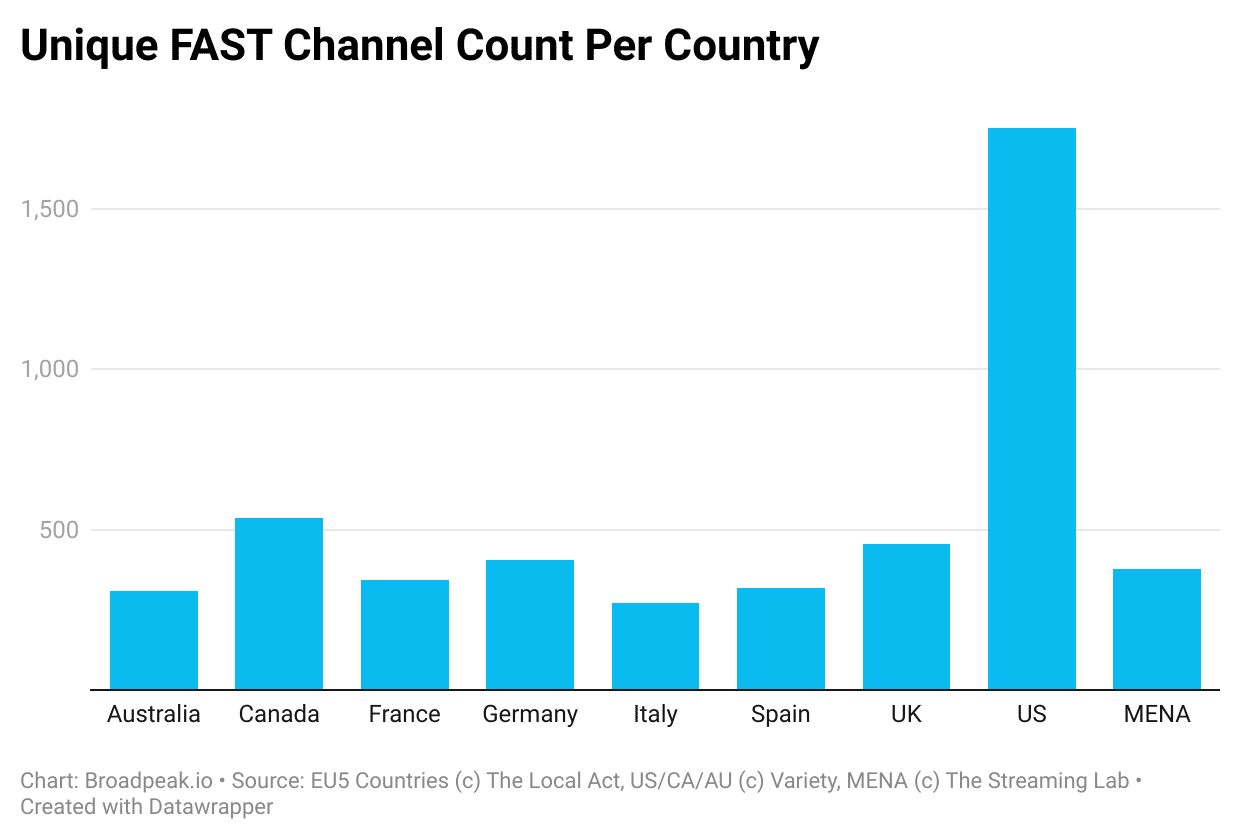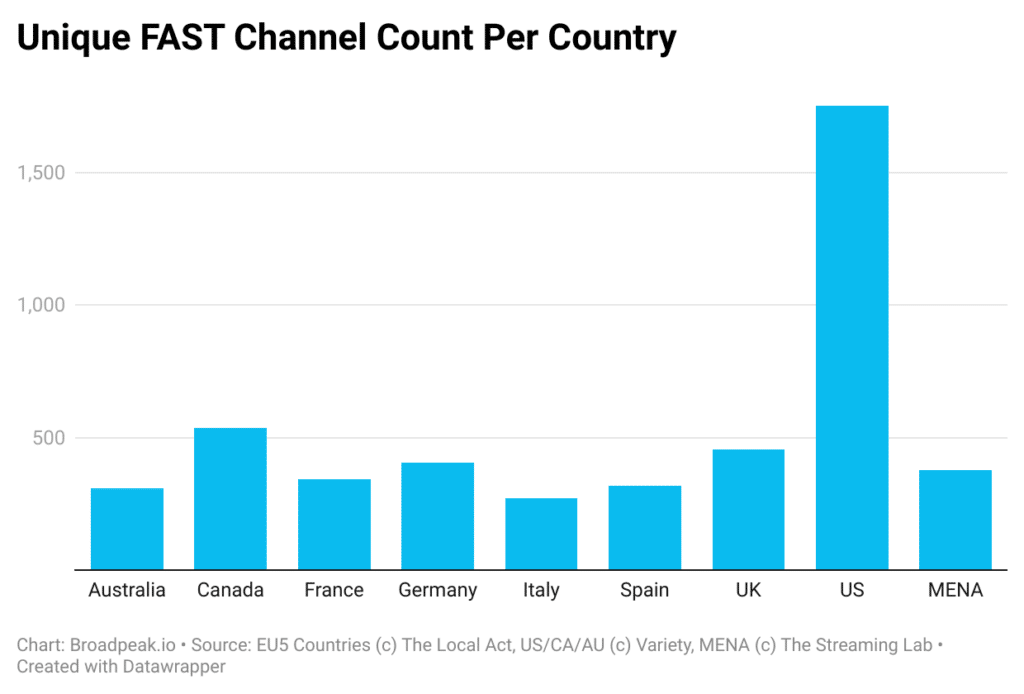 Looking at these numbers, it's fair to say the FAST market is split in two: the US with over 1,700 distinct FAST channels, and the remaining markets below the 500 mark.
A couple of thoughts on why this gap:
Remember the US started seeing its first FAST platforms back in 2014.
It is a business model that has proven its value to content owners which are keen to have a network of FAST channels (e.g. Filmrise, A&E, Fremantle).
The boom of Local News FAST Channels (552 as of October 2022)
A limited Free TV proposition
What are the leading genres?
FAST is looking to cater to the widest audience possible and so there should be a genre for every taste.
The main genres we see across platforms are the following:
Movies
TV Series
General Entertainment (factual, true crime, lifestyle)
Documentaries
Kids
Anime / Manga
Sports
Music
News
Gaming
General Entertainment leads in the US (with 839 distinct channels[1]) and in all EU5 markets (eg. 256 in the UK[2]).
It makes sense. FAST offers a lean-back experience where formats like Hell's Kitchen, Deal or not deal, Survivor, can thrive.
What are the different types of channels?
There are 3 main channel types:
Brand led channels (Euronews, DAZN),
single IP (Intellectual Property) channels (Doctor Who, Baywatch),
Theme based (True crime, sports, TV series, Movies)
The founding years of FAST, theme-based channels were legion. You were choosing a thematic, acquiring matching content and building a bespoke brand (unless you had an existing one of course).
As time went, we saw tier 1 content owners launch FAST channels which were either brand-led or IP-led. They are the most sought-after because the brand of a company or a piece of content acts as a scroll-stopper for viewers. They recognize and trust a brand they have previously encountered on TV, SVOD or on Social Media. The next few years of FAST will revolve around companies with brand strength and the necessary marketing firepower to grow it.
In our next blog post, we will explore the technology behind FAST and how to launch a FAST channel even if you do not have a broadcast infrastructure in place.
The FAST Blog Series – Part 4/5 to be posted soon!
---
[1] Source: fastmaster.substack.com
[2] "Streaming Made Easy": marionranchet.substack.com