The TV industry in Canada is facing many changes, with the two main trends:
Legacy Canadian operators are migrating from traditional QAM or TS-based delivery to IP-HTTP (HLS or DASH) delivery, mainly for efficiency, modernism and to better address their customers' needs.
New actors, traditionally focusing on providing broadband service only, are currently adding TV services to their offering. Arriving late to the market, they are building a video platform from scratch based on the latest technologies, such as HLS and DASH.
You can learn more details about this migration to IP-HTTP video streams in one of my other blog post. It is focused on the U.S. market, but most of the topics raised in the article apply to the Canadian market, too.
Even though it is a future-proof technology based on its flexibility (open standard) and versatility (multiscreen delivery), IP-HTTP streaming protocols still need to comply with traditional regulatory practices. Here we will discuss in more detail the case of simultaneous substitution (also known as SimSub [my favorite nickname ?], simsubbing or signal substitution). It is mandated by the Canadian Radio-television and Telecommunications Commission (CRTC) for Canadian cable TV, direct broadcast satellite (DBS), IPTV, and MMDS television distribution companies.
Legacy platforms, such as cable, satellite and traditional IPTV, are currently dealing with that at the multiplexer level, which is hardly usable with HTTP for two main reasons: it is cost prohibitive, and the implementation is too complex on the player side.
Nevertheless, with the right technology, SimSub is easily deployable with HTTP streaming formats. Even better, it can be a source of monetization opportunities and allow you to comply with legal and distribution requirements.
What exactly is SimSub?
The concept is to force the distribution of the signal of a local/regional TV channel in place of the signal of a foreign/nonlocal television station, when the two stations are broadcasting identical programming simultaneously.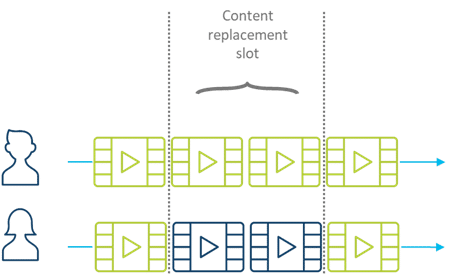 This is in order to make sure TV viewers always see the commercials that are paid for and meant to be distributed in a certain region.
Let me try to illustrate with a use case:
Imagine John, a Canadian TV viewer who is tuning his STB or his phone to a U.S. broadcaster on cable TV. John is looking to watch the Olympics, the Stanley Cup or a TV series.
If a Canadian broadcaster has acquired the rights for that particular content and is showing it in Canada at the same time, the TV service provider shall force John to watch the Canadian linear feed, in particular, the Canadian commercials.
Additionally, when the same content, like "The Sopranos," is broadcast in GTN Toronto, GTN Montreal, GTN Ottawa, and GTN Vancouver simultaneously, all the feeds in the Toronto region (for instance) will be forced to the GTN Toronto versions so only the advertisements of GTN Toronto will be viewed. In that case, you can imagine that if a user tunes to CTV Toronto, he will actually see CTV Montreal.
Which particular requirements should SimSub comply with?
You need to be able to manage SimSub events many days ahead. Most of the slots are known in advance and can be automatically applied to a scheduled time.
Some SimSub switches are related to sport games. Based on what happens during the event (i.e., overtime, cancellation, postponement), a manual intervention could be necessary to make the substitution at the right time.
As explained above, the SimSub switches could be different based on the region/province. Regionalization is an important parameter to take into account.
The slots information is usually provided out-of-band by a third-party company aggregating information from broadcasters (e.g., Mediastats or Broadcast Control Inc). It typically comes in a XLS, DBF or CSV format and contains the following: channel simsubbed from, channel simsubbed to, begin datetime, end datetime, if begin/end times are live and has to be monitored.
How can broadpeak.io help?
broadpeak.io, through its application Blackout, provide the content replacement service able to achieve the simsub requirements. It can ingest a schedule out-of band, manage the switch between an original and and alternate source, consider the location of the viewer and importantly been updated in real-time using API calls.
Please look at the broadpeak.io knowledge center article on Blackout uses cases for more information, or contact your broadpeak.io representative.
Please note that this post has been originally published on Broadpeak blog, and has been slightly modified to illustrate how broadpeak.io capacities achieve simsub functionalities.
Photo by Ali Tawfiq on Unsplash