During IBC 2022, we were delighted to present a collaborative demo, result of a teamwork between Spideo and broadpeak.io. As it generated enthusiastic feedback, we decided to team up again, write this blog post and share more about the demo!
Firstly, who are we?
Spideo provides personalized recommendation solutions to video platforms, through enhanced semantics and humanized algorithms.
broadpeak.io is a Video API platform helping Online Video Providers to personalize and contextualize streams. It hosts several applications such as Dynamic Ad Insertion, Virtual Channel Creation, or Automatic Content Replacement.
What was the demo about?
In the streaming industry, something starts to be obvious… With increased choices, especially on SVOD platforms, it is more complex and harder to decide what to watch. Consequently, the average time end users spend finding content on streaming media services is close to 30 minutes! We have explained this phenomenon in a recent blog post.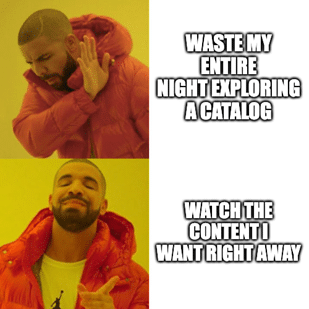 Fortunately, companies like Spideo are here to curate recommendations for viewers and make it easy for people to find relevant content.
Nevertheless, you still see the opposition between a lean-forward approach in the on-demand world (Disney, Netflix, YouTube, Spotify, etc.…) and a lean-back system on traditional platforms privileging linear channels streamed in a broadcast mode, just like 20 years ago.
The first focuses on engaging subs, which is good from the advertisement standpoint. The latter is outdated but has the advantage of limiting choices and letting people quickly enjoy watching content.
The industry has fixed this conundrum in the last couple of years by creating FAST Channels. FAST channels are free-ad-supported TV channels. They are typically thematic, letting people enjoy niche content they like.
However, FAST channels can drastically miss a touch of personalization for being too generic, and therefore can be boring for end customers in the long run.
For these reasons, Spideo and broadpeak.io presented the concept of Personalized Virtual Channels during IBC 2022.
The demo shows how we can help Streaming Service Providers stream content that end-users like when they tune in to their channels. It leverages the best of both forward and lean-back experiences. It is created for you and you only, and you do not have to think about it. You are engaged, and you don't spend your time browsing. The platform is doing it for you.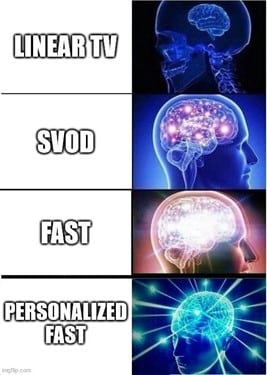 Why is it unique, and what real-life applications can come from it?
What is noteworthy is the capability to support this use case at scale (only one channel to manage on the backend and in the EPG, regardless of the number of end users and audiences). In the past, the technology was limited in this regard – now, with the capacity to use SaaS, which can auto-scale like broadpeak.io, it is easier to make it happen.
Automated linear channel programming is done combining Spideo recommendation technologies with Broadpeak custom streaming solutions. When integrated with dynamic ad insertion, this highly personalized service can also enable a Personalized FAST experience.
Traditionally, such technologies would make use of cookie data in internet environments. However, linear TV is cookieless. The key piece of the puzzle then becomes semantic data, the first party data which is at the heart of the Spideo technology.
Using it, thematic channels can be generated thanks to automatically curated content per topics of interest. Moreover, the system can go further into personalization by generating personalized schedules based on individual attributes. For instance, two users interested in sewing might have different channels still about the same subject, one with beginner-level videos on sewing and another with high-skill videos on the same topic.
Such a solution also represents a cut in technological and editorial costs, as the automatization saves time and money on multiple domains.
There are substantial benefits for end-users, video service providers and advertisers:
End-users will benefit from a lean-back experience with more relevant content at the right time. They will no longer need to search for channels, catalogs, themes, or programs. Mechanically, the more they watch, the more relevant the recommendation and the advertisements.
Video service providers can be more competitive by proposing a unique type of service, with consequently more stickiness and less churn. In terms of costs, there is no need to re-encode content or re-engineer anything, and no need to build dedicated teams for each and every channel programming anymore, which globally make things much more affordable.
Finally, it creates a smooth audience segmentation, bringing a new revenue source from ad inventory monetization. Thanks to semantic data you can build a wide variety of segmented audiences per shared topics of interest, moods and values. Qualified audiences then become opportunities for brands to invest in targeted campaigns with the capability for advertisers to use programmatic approaches to reach large and qualified audiences at scale.
From a User Experience standpoint, there are real-life applications that you can envision for this technology:
Of course, you can imagine creating a "My channels" application, with one or, even better, a multiple channel package suite, that can pop up every time a subscriber connects to its service:

As mentioned, you can also personalize FAST channels already pre-produced but with the possibility to notice if a viewer has already watched the content and then adapt the schedule in real-time to give him something fresh.
With FAST publishers offering up to 350 channels, navigating such an extensive channel count is prone to poor user experience (even if channels are sorted by genre and themes). In this context, having content automatically selected for each user without spending time browsing in the EPG is invaluable.
Want to see the demo?
Based on activity, the Spideo system understands user's topics of interest, generating a User Semantic Fingerprint. This is how it could look like for someone interested in sailing sports.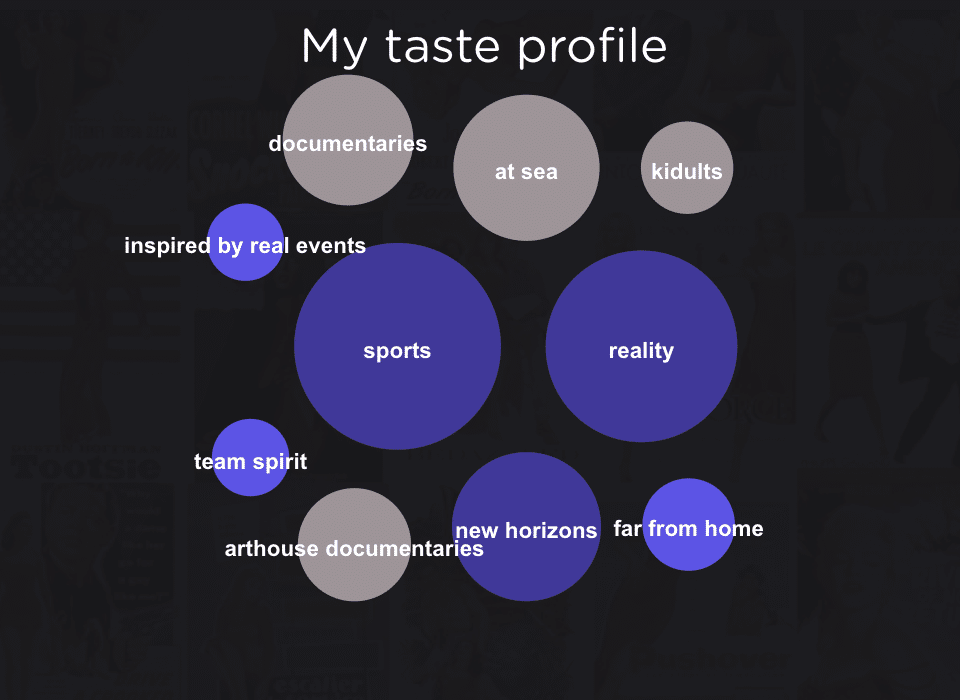 Personalized recommendations are then generated accordingly. Below is an example of recommendations for people interested in sailing sports.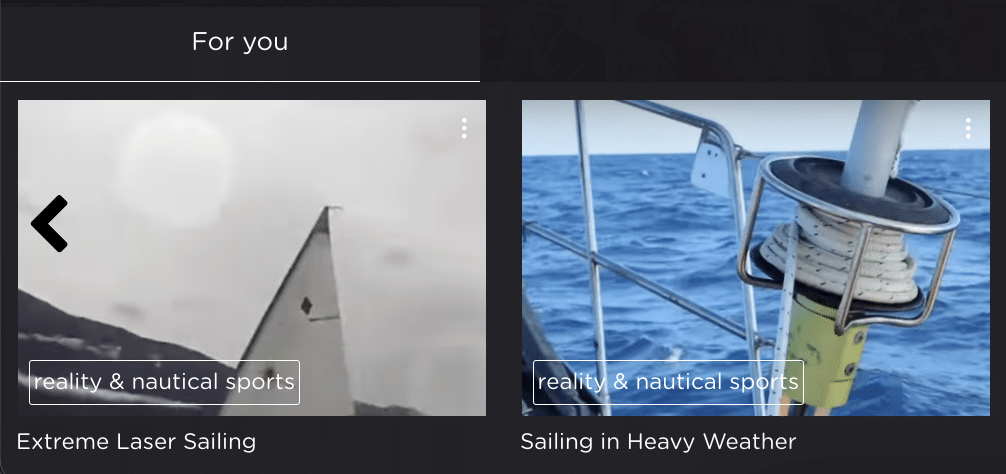 Same here for winter sports.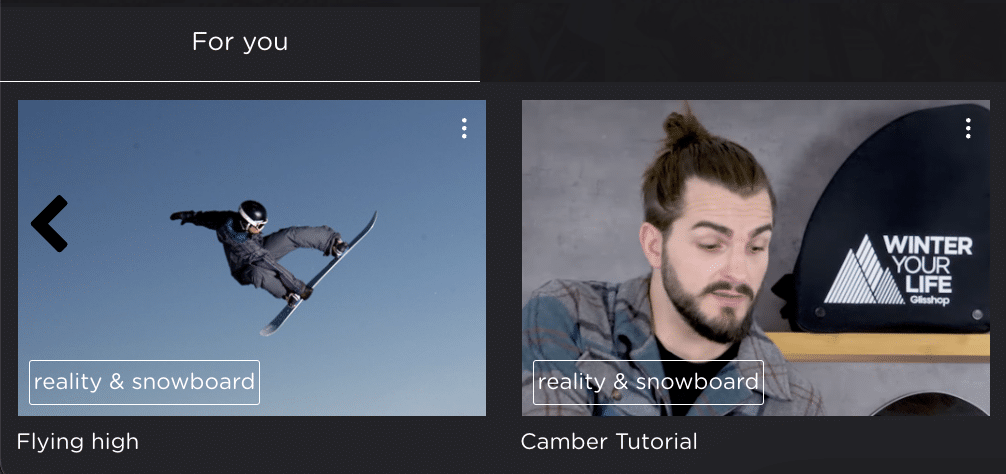 Linear channels which use the personalized recommendations are then built and streamed through brooadpeak.io technology. For instance, the image below uses the 2 previous examples in order to generate linear channels for an audience interested in sailing sports and another in winter sports.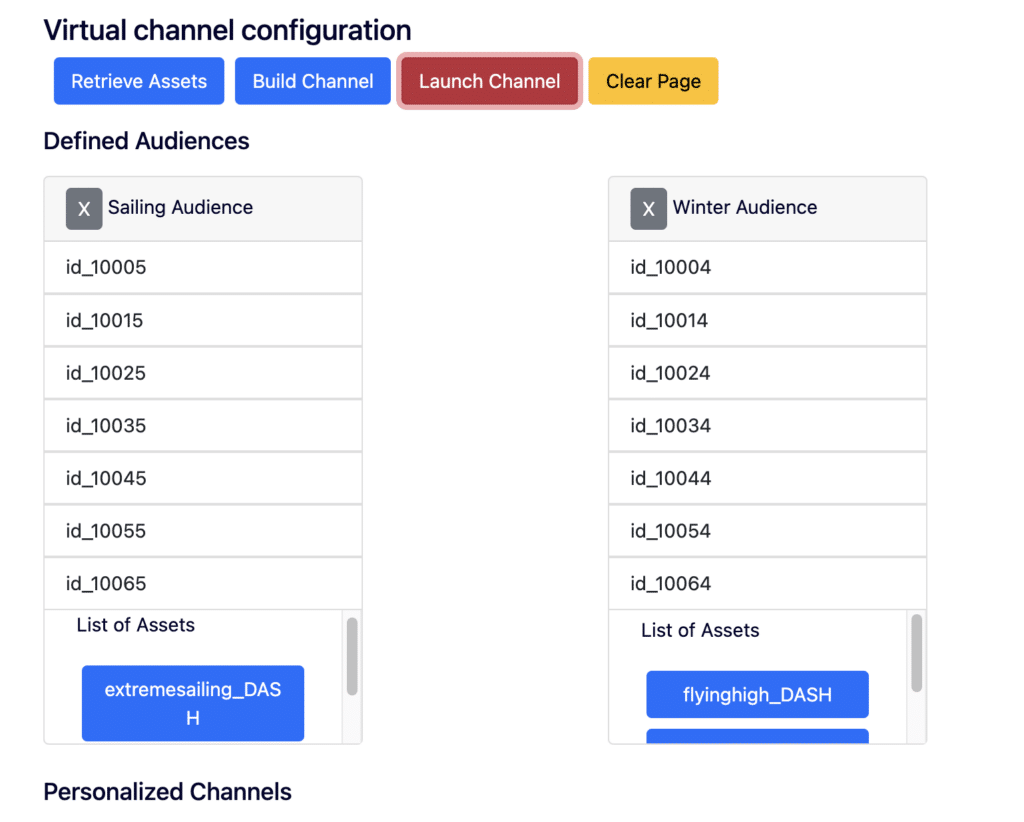 Did we catch your interest? Book a meeting here (Spideo) or there (Broadpeak) to see the full demo!
So now, what do you need to add Personalized Virtual Channels to your service?
Spideo and broadpeak.io made the best technology and the right services available to enable this solution for your viewers.
Through User Semantic Fingerprint, clusters around specific notions and semantics are identified, which, when deployed on the Spideo analytics platform, generate segments of users with common interests and attributes. For each segment and all users who belong to it, Spideo can build the most relevant FAST channel programming based on video assets available in catalog, everything being connected through tastes and semantics.
On the broadpeak.io side, you need to create your own Virtual Channel using our application. The best way to do it is to create an account and follow the steps of our Knowledge Center to set up a channel. Not much time to create a demo, but still have your boss asking for one? You can use our Postman collection to make it happen within a few minutes.
Where do we go from here? What are the potential evolutions?
We see many opportunities in this initiative and are already exploring new features related to contextualized advertising. Contextual targeting differs from audience targeting – and with a Personalized Linear Channel, we can analyze in advance the content itself to align ad campaigns. Contextual advertising will help raise CPM for CTV, where cookies are not supported.
Until now FAST channels were built through the acquisition of TV channels. But, in order to make the most out of video inventories, the future points to a new approach: building FAST channels directly out of AVOD libraries, an immense source of content that are, too often, poorly exposed.