Adopted "Hoosier" (as are called the people of the U.S. state of Indiana) for a few years now, I was always stunned by the passion of the habitants of Indianapolis for racing and the famous Indy 500.
With my streaming professional bias, I quickly got much more interested in the shenanigans around the blackout of the event than the cars themselves.
It pushed me to share my findings and introduce the concept of Blackout in the global context of our profession.
Introduction
In the Pay-tv industry, Blackout is frequently used to refer to non-airing television programming in different contexts.
Today, I will take a step back and explain the roots of this "not-so-easy-to-implement" broadcast requirement.
We will discuss the history of this obligation, explore different scenarios addressed by the "blackout," and put the foundations on how to deal with it on modern TV platforms.
We plan a follow-up blog post to detail possible implementations in the IP world.
When and why have blackout rules been created?
The requirements started in the early 60s with, in particular:
The "Sports Broadcasting Act of 1961" in the US.

The concept of that one was to protect a home team from broadcasting into its home territory on a day when it is playing a game at home. In particular, when the games are not sold out (the rule was if 85 percent of the tickets are not sold out 72 hours before the start time). It also, in effect, protects high school football and college football game attendance by blacking out pro football games locally on Friday evenings and Saturdays during those sports' regular seasons.

The "3 pm blackout rule" was brought into force back in the 1960s in the UK.

That one is about English Soccer Leagues and Federations not permitting English matches to be televised live between 2:45 pm and 5:15 pm on a Saturday within the United Kingdom. The intent was to limit how televised matches on a Saturday afternoon could hurt the attendances of other football league games that were not being televised.
What is precisely happening:
Blackout allows specific live, linear programming to be blacked out to predefined sets of viewers (aka audiences). Instead of standard programming, blacked-out viewers will view alternate content such as a slate, a different live channel, or on-demand content.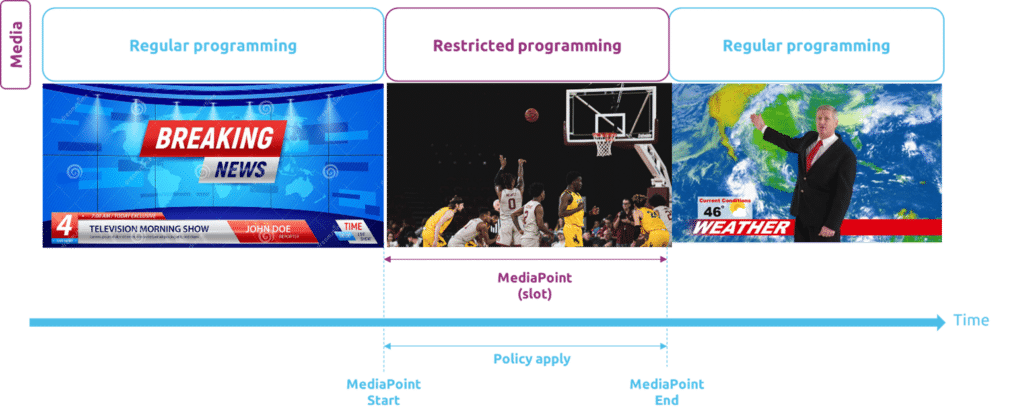 In a nutshell, here are the original reasons for implementing blackout rules:
Make sure games aren't viewable on tv services that don't have the right to do so (rights typically are held by local teams or sports networks)
Encourage fans to purchase stadium tickets
Different scenarios being addressed
Let's take specific scenarios to illustrate them a bit more the concept:
Case number 1:
A national broadcaster's live channel includes in its program a sporting event. Nonetheless, a local network has special rights to this event.
Solution: Blackout must be used by the video distributor of the national broadcaster's live channel to limit the distribution of this sporting event to the local broadcaster. Several options are possible, using a black screen, a slate, or the local network channel to use a replacement during the blackout slot.
Case number 2:
A specific program (movie, tv series…) that has not been licensed for distribution over phones and tablets has been scheduled in a live channel available through the Internet.
Solution: Blackout must be used to prevent the distribution of this content over user agents, including any phones/tablets, and should be restricted to Set-top-boxes and TVs.
Local implementations
As of today, you still have many countries applying blackout policies:
The USA is still implementing blackout rules as of today. The three main sports leagues, in particular (NFL, MLB, NBA), still do, even sometimes for the pre-season games (especially for the NFL). The Indy500 has been blackout systematically in Indiana since 1986, with very few exceptions.
The UK still has the 3 pm rule rules.
Canada has many blackout policies, not only related to sports, by the way. CFL and NHL have similar rules to what has been imposed in the US for the NFL/NHL/NBA, but there are also regulations related to federal election days. Canada being a multi-time zone country, there is a need to limit communication on TV about polls to avoid voting influence. Simultaneous substitution (which we have covered in many blog articles) is a form of blackout that must be enforced.
India recently got (2017) rules about blackout the state broadcaster when it airs national importance sporting events retransmitted by other Pay-tv broadcasters.
In France, there are rules related to political campaign closures days and French overseas islands.
Conditions, requirements, and experience
In most of the blackout policies, here you have what you need to deal with:
Schedule
Blackout events are typically planned many days ahead, with most of them including the exact time of the slot.
Monitoring
As it is usually related to blackout sports events, the blanking time can be updated at the last minute. In that case, it may require manual intervention to force the end of the blackout at the right time (i.e., overtime during a tie game).
Multi-region
Some enforcements may need to use different replacement content for other regions. In particular, some programmers are creating alternate channels per location that must be replaced based on the viewer's geo-location.
Viewer experience
Experiencing a blackout is always a disappointment. Imagine you log in to watch your favorite team and are told you can't view it due to licensing restrictions. That's already an intense setback.
So, it would help if you made sure the replacement of the content to be blackout happens without interaction from the user (no channel change or button press needed) and without any interruption.
Also, to improve user experience, replacing with alternate live content is better than having a static slate saying "sorry".
In the case of OTT and HTTP video delivery, blackout must be based on the program, not the player time. As the players are buffering in OTT, it is vital to make sure you blackout the program and not a time window.
Control
Based on the volume of blackout slots to deal with as a linear channel distribution, it is critical to manage a flow that is as automatic as possible and enables possible manual override. A quick switch between original content and replacement is also to be considered.
Data provisioning
The metadata can come in different formats and from other programmers/aggregators. Nevertheless, we see more and more adoption of the SCTE224 standard, which helps to normalize operations.
How to deal with it in the world of streaming?
In a different blog post, we will discuss how to implement blackout in more detail. Still, when you start talking about replacing content in a streaming feed, you very quickly realize that you need to use a technology called manifest manipulation.
Streaming relies on HLS and DASH protocols, which are based on the principle of indexing video segments in a manifest text file. Manifest manipulation helps replace some video segments with others based on some rules.
With APIs such as SCTE224 and associated metadata, you can now control services that automatically blackout feeds based on time slots, locations, and devices. This is what we propose with broadpeak.io.
By creating your account and starting to plug the manifest files of the linear channels that you need to blackout, you can, within minutes, appreciate how easy it is to replace content based on regulatory rules!
Please let us know if you have anything specific questions, and stay tuned for a new blog post describing the steps of implementation in the real world.

Photo by Ayden Sutton on Unsplash