If you are a media executive, you have surely heard the term FAST on countless occasions before. The acronym stands for Free Ad-Supported Streaming TV, and it has been the buzzword these past 12 months.Once we said that, we have not said much though.
That's why, in this series of blog posts, the team here at broadpeak.io will provide you with a comprehensive guide to make sense of this new business model taking our industry by storm.
What should you expect in this series?
We will level the playing field by defining what FAST is and what it is not. You will understand the opportunity FAST brings as well as the Content & Platform ecosystem one must navigate in. We will finally discuss the underlying monetization and technology requirements to successfully launch a FAST channel business.
This business model has not reached maturity yet so this series will not pretend to cover all bases, but we guarantee you will have enough to get started and you will be hungry to know more.
Let's begin!
Introduction to FAST
The term FAST was first coined by TV Industry Analyst, Alan Wolk, back in 2019 to describe the new trend of ad-supported linear TV offerings popping up in the US.
Los Angeles start up, Pluto TV, was at the forefront of this trend since its inception back in 2014. Ilya Pozin and Tom Ryan had a vision: Live Cable TV should have its free streaming equivalent.
Quite the bet given that at the time, Subscription Video On Demand (SVOD) was becoming the new normal with Netflix imposing the model globally.
What started as a service stitching on demand content to build 24/7 linear feeds became this innovative entertainment start up every media group wanted to get its hands on. In 2019, the company was bought by Viacom for a whooping 340M$. Today, they carry over 300+ FAST channels (a number that varies market to market). They garner 78.5M monthly active users in 35 markets with an average monthly revenue of 108.67M$1.
Now what is a FAST channel?
It's a 24/7 linear feed following a programming grid and an ad break strategy, both designed by a team of content curators. An EPG (Electronic Program Guide) is here to help you in the decision-making but after that you do not get to choose what to watch next. The curators already did the work for you. You can flick through channels and start watching what catches your attention.
For those wondering why a new term was needed, it's true a FAST channel feels like just another TV channel except that the delivery technology in the background is not broadcast technology but streaming, hence this new acronym to make the subtle distinction between the two linear models.
The differences do not stop there though.
No one should expect to secure carriage fees' deals whereby distributors pay for the distribution of your channel (as it has been the case with Broadcast TV). FAST channel owners pitch their channels for distribution and agree on commercials based on the channel's performance.
FAST is also different from Broadcast TV as it is not the exclusive domain of a couple of household brand names. Anyone can, in theory, become a FAST channel. This enabled digital brands like Tastemade, Kevin Hart's LOL Network and more to become FAST channels when these were not Broadcast TV channels. Even a single IP (intellectual property) can become a FAST channel (e.g. Gordon Ramsay's "Hell's kitchen", "Deal or not deal", "Baywatch").
However, as time passed, the lines got blurry since Broadcast TV made its way into FAST too with its own set of channels e.g. ABC News, Euronews.
Is FAST the same as AVOD?
FAST became this umbrella term that goes beyond the strictly linear video experience.
Most FAST platforms indeed offer an On Demand component too, what we call AVOD, Ad-Supported Video On Demand. You can browse and watch content at a time of your choice, much like SVOD, but you will be served ad breaks as part of your viewing experience.
AVOD & FAST are very much intertwined now since platforms, like The Roku Channel or Pluto TV, give viewers the ability to start over a piece of content currently being streamed as part of the live feed (you are either kept in stream i.e. The Roku Channel or send back to the AVOD asset i.e. Pluto TV). This is enabled thanks to the availability of an On Demand asset matching the Live programming.
Why this sudden interest in this "newish" model of video consumption?
SVOD brought incredible choices but today consumers are struggling to decide what to watch next. We are faced with a paradox of choice which can become a paralysis of choice.
Here comes FAST and it's free, lean-back viewing experience.
What is the level of consumer awareness?
In markets like the US, all demos are aware of Free streaming services. The education part of Ad-Supported Streaming is done.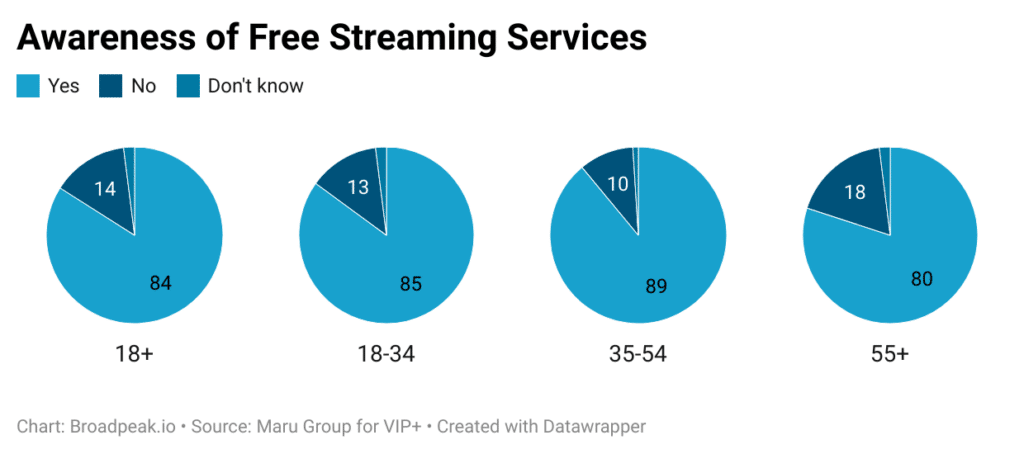 How often do they use said services though?
It's a rather equal split between the viewing frequency levels across demos, meaning that there is still work needed to ensure viewers make it a habit.

For now, FAST seems opportunistic (as in, you stumble upon a channel) versus appointment TV (where you have a sense of what you can expect to find e.g. the news at 8pm, a football game at 9pm).
What is the penetration amongst US Households?
According to S&P Global2, Top FAST services now reach 20 million or more American households every month, out of 122.4M TV households3.
U.S. TV households were set to view an average of 0.9 FAST services per household in 2022, with that number rising to 1.5 FAST services/TV household by 2026.
There is room for growth, and even more so if we consider the fact that FAST is less developed in international markets than it is in the US.
In our next blog post, we will look at the opportunity FAST represents globally across the Media & Entertainment ecosystem.
The FAST Blog Series – Part 2/5 to be posted soon!
1 Viacom Q4 2022 Earnings Report
2 S&P Global "US FAST revenues could near 4B$ in 2022"
3 The Athletic – The Ultimate Nielsen FAQ – March 2022