broadpeak.io's integration with Google Ad Manager's DAI Pod Serving solution
In the bustling landscape of OTT, two key factors have emerged as the cornerstones of success: the simplicity of streaming and the efficiency of monetization. With our broadpeak.io service, our mission is to simplify access to server-side-ad-insertion, and we believe we will lead this transformation in our industry. Google Ad Manager is also a significant player in streaming advertisements, with its advanced targeting capabilities and the maturity of its ad serving and monetization suite.
Today, we are excited to announce the integration of broadpeak.io with the innovative Google DAI Pod Serving, setting a new benchmark for monetizing the OTT experience.
Google DAI Pod Serving?
Google DAI Pod Serving enables Google Ad Manager to integrate seamlessly with media workflows without having to "own the manifest". It's flexible, allowing you to collaborate with your current video technical partner for manifest manipulation.
Google DAI Pod Serving brings your current functionalities with Google DAI for monetization while letting you control your core business's video stack.
DAI Pod Serving is setting new industry benchmarks from live scale capacity with prefetching and early break notification to bring direct & programmatic demand at scale with verification and measurement.
Today, broadpeak.io is fully integrated with Google DAI Pod Serving, and is ready to support broadcasters and operators at scale.
Benefits of the Collaboration
First, we know that offering audiences an optimal streaming experience is crucial nowadays. Broadpeak, renowned for its cutting-edge streaming solutions, ensures that users get the best-in-class streaming experience using our OTT content processing and delivery expertise. However, a seamless streaming experience isn't the sole ingredient for success in the OTT space; monetization plays a pivotal role. Google, a trailblazer in digital advertising, brings forth unparalleled monetization strategies. By integrating superior SSAI streaming capabilities on broadpeak.io with Google Ad Manager's robust monetization tools, content providers can offer an outstanding viewer experience while ensuring sustainable revenue generation.
Secondly, of course, viewer engagement is vital for better CPM. For that, personalization is the key to capturing viewers' attention. With platforms that focus on their strengths (broadpeak.io on SSAI, DAI Pod Serving on ad serving), they have a better capacity to scale overall. Advertisers and distributors now have the unprecedented ability to tailor each ad break to the individual viewer in privacy forward way. This not only elevates the user experience but also optimizes ad efficacy. Ads can now be curated based on viewer preferences, habits, and demographics, with user consent and privacy controls in place, potentially leading to a more engaged audience and better returns.
Moreover, by receiving standard analytics between the audio/video pipe and the ad stack, publishers can delve deep into understanding the true impact of their advertising content on the viewing experience. Such analytics evaluate not just the effectiveness of the ad content but also how it integrates with the overall streaming content, ensuring that ads enhance rather than disrupt the viewer journey. A unified analytics platform gives a holistic view of viewer behavior, which can then be leveraged to refine strategies and achieve better viewer retention.
Finally, it's often challenging for publishers to consistently stay ahead without overhauling their systems. However, with the overlay Software-as-a-Service (SaaS) broadpeak.io offerings, publishers don't need to discard their existing video stack to work with Google Ad Manager on the advertisement stack. Instead, they can supercharge it. broadpeak.io seamlessly integrates with the current ecosystem, providing the much-needed boost in SSAI capabilities without a total revamp while keeping control of the stack. 
How Does it Work?
The following diagram shows the ecosystem typically deployed by customers:

In terms of workflow, here are the flowcharts: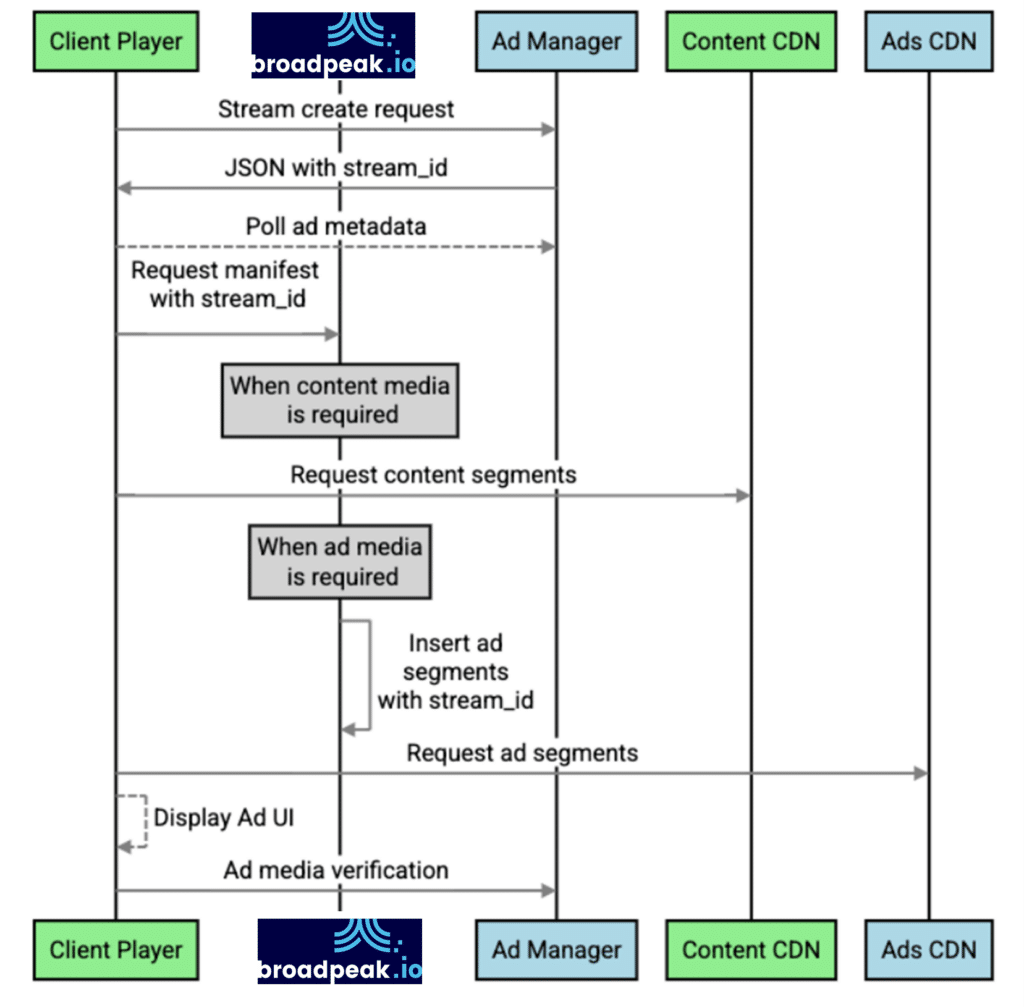 Conclusion
In essence, integrating broadpeak.io with Google DAI Pod Serving isn't merely a technical enhancement; it's a step toward shaping the future of OTT, simplifying complexity, and maximizing potential in an ever-evolving digital landscape. Reach out now to learn more about how broadpeak.io and Google DAI Pod Serving can benefit your business!
Banner photo by Armin Rimoldi