In the previous blogs in the Targeted TV Advertising blog series, we discussed digital advertising and TV advertising, respectively. In addition, we showed that with recent technological developments in the TV advertisement space — commonly referred to as connected TV — we will see a shift of ad spend from digital to TV advertisement. But there are some non-technological drivers that will further accelerate this shift.
Privacy Concerns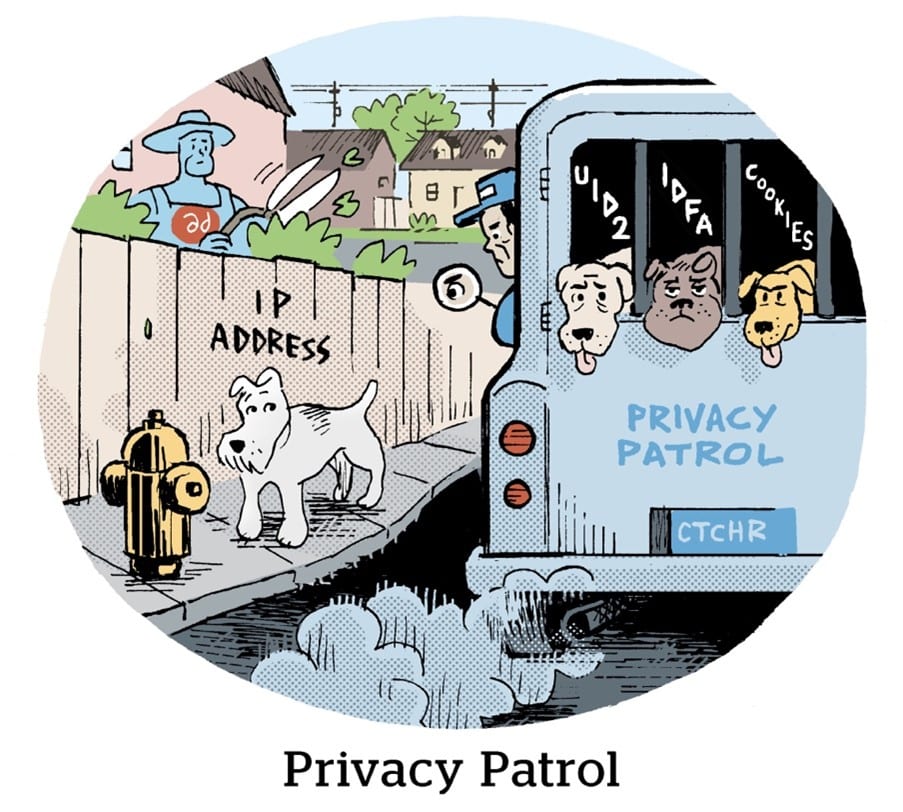 People are increasingly concerned about privacy. The main tool used to track people's activities and enable targeting in digital advertisements are cookies. It is especially the third-party cookies used to track across websites that are under fire. Governments — notably in Europe as part of GDPR — have put in place legislation that mandates explicit consent is requested to track one's activities on websites.
Third-Party Cookies
The tech vendors are also becoming increasingly receptive for the privacy concerns of their users. With the privacy concerns related to cross-site tracking we have witnessed several browsers, such as Apple Safari and Mozilla Firefox, removing support for third-party cookies from their browsers. Google initially announced that starting in 2022 it would abandon the support for third-party cookies in its Chrome browser, too. Under massive pressure from the digital ad tech companies, this has been postponed until 2023.
Therefore, powerful retargeting across websites enabled by third-party cookies will soon no longer be possible.
Mobile Ad Identifiers
Equally, there is a similar concept as a third-party cookie at the application level in mobile environments. For the Apple ecosystem, this is the Advertising Identifier (IDFA). Starting with iOS 14.5, iPadOS 14.5, and tvOS 14.5, apps will need to receive the user's permission to track them or access their device's advertising identifier.
Under pressure, Google has also committed to implement a similar permission framework in Android.
Besides shielding the access to these tracking identifiers, Apple additionally announced that starting September 2021, as part of the new OS releases, it will implement a proxy service (called iCloud+ Private Relay), which will enable the user to choose to shield the device and gateway's IP address (and geo location) from websites, etc.
Toward a First-Party Data World
This means that from a targeting perspective, advertisers will need to fall back to what is called the first-party cookie and/or data.
First-party data is defined as any information directly collected by a company from its customers. It is the most valuable information in large part because customers are opting to provide it based on the commercial relationship with them. Therefore, it is ownable.
Among the many benefits of first-party data, some of the most powerful include:
The ability to collect the exact data and in the required format for its purpose.
Data is collected directly from the source, without risk of being altered.
The ability to process, review, and act on the data in real time.
Collecting information on every touchpoint — with consent — is key to unlocking information about the customer and to providing a personalized service, including personalized advertising.
It is essential to point out how important it is to ask consent before collecting the data, not only to adhere to privacy laws of many countries, but also to establish and build trust with subscribers. Since trust is built on transparency, it is advised to be open about what information you are going to collect, what you will be using it for, whether you will share it with third parties, and how they can fully or partially opt-in or opt-out. It is also essential to use the first-party data in a way that creates a relevant ad experience for the subscriber.
First-party data can come from a variety of online and offline sources, including behavioral data of your services (i.e., website, internet access, mobile device), customer relationship management databases (CRMs), point of sale (POS) purchases made in-store or possibly even loyalty programs.
Digital's Dwindling Star
From the previous section it is obvious that there is no longer a place for stealth collection of personal data and its use for targeting purposes, as commonly done in digital advertising. In other words, unless there is an explicit login with acceptance of terms and conditions, disclosure of the privacy policy and request of specific consent, there is no possibility to legally obtain and use personal data and first-party data to do targeted advertising.
What future is there for digital advertising when people have to log in to every website they consult?
Therefore, we expect an acceleration of the shift of ad spend from digital advertising toward connected TV advertisement.
This is also being confirmed by a 2020 iAB survey, which showed that digital display advertising is expected to get 37% less budget in 2021, in favor of connected TV advertisement.
In particular, TV service providers with a substantial subscriber base stand to benefit the most. Indeed, TV service providers are in the perfect position. First, their TV service is already the most effective advertisement medium. Secondly, given their generally long-standing relationship with subscribers — not only for the TV service but for quite some ancillary telecommunication service too — TV service providers own prime first-party data on them too.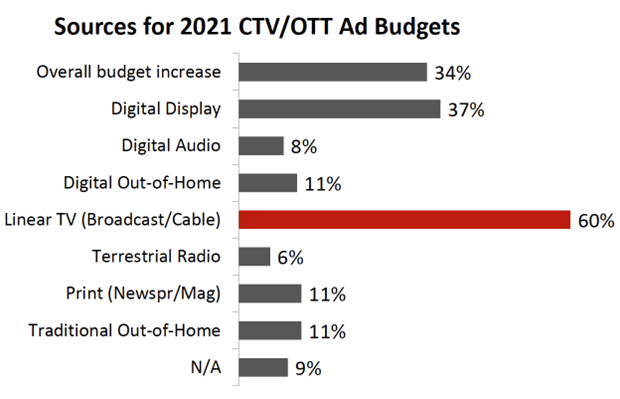 Conclusion
Digital advertising growth is being challenged by the changing privacy climate across the globe. The first casualties are the web browser cookies and the application ad identifiers, but increasingly we see governments requiring explicit consent to allow companies to collect and use personal data for other advertising purposes. Consequently, for most websites and apps it becomes quite tedious to collect and maintain first-party data. The selling, exchange, and combining of first-party data to create what is commonly referred to as second-party data is also only allowed if explicit consent is given, adding an extra layer of complexity.
Connected TV advertising, on the other hand, is run on platforms where there is, by default, a contractual relationship with explicit acceptance of terms and conditions, the privacy policy and the possibility to request explicit consent for use of collected data in monetization using targeted advertising.
Consequently, we expect that connected TV advertisement spend will soon again surpass the digital advertisement spend.
The next blog in the series will discuss in detail connected TV (CTV) advertising.
The Target TV Advertising Blog Post Series:
Digital Ad, DAI and SSAI – Part 1/5
Connected TV Advertising – Part 4/5
Ad Partnerships: Key to Success – Part 5/5