Several broadpeak.io team members attended the AWS Summit and AWS Partner Summit in Paris on April 11-12 2022, including Olivier Karra, Cloud Solutions Marketing Director; Rémi Ollivier, Cloud Platform architect; and Ludwig Lavocat, Devops Engineer at Broadpeak.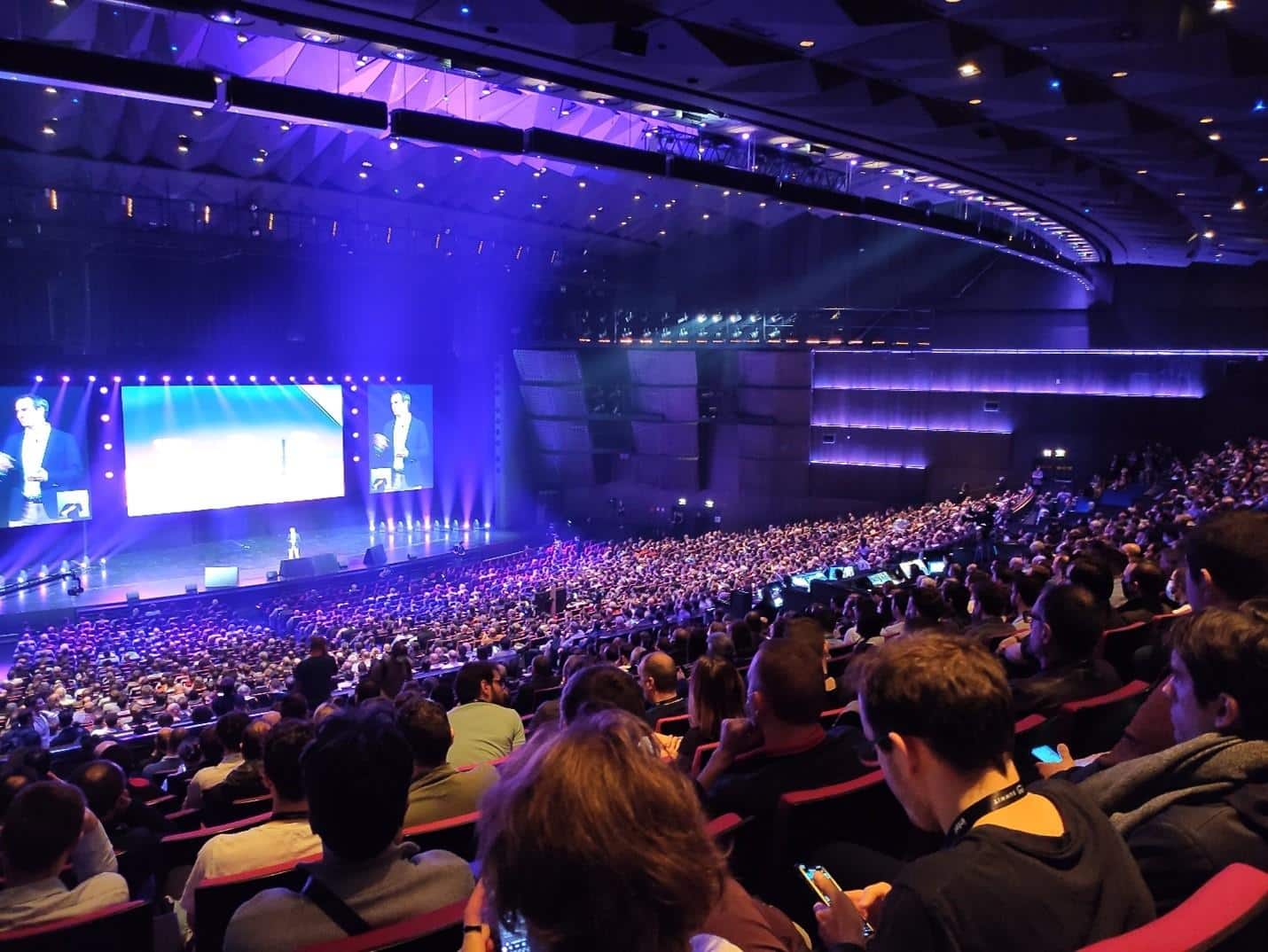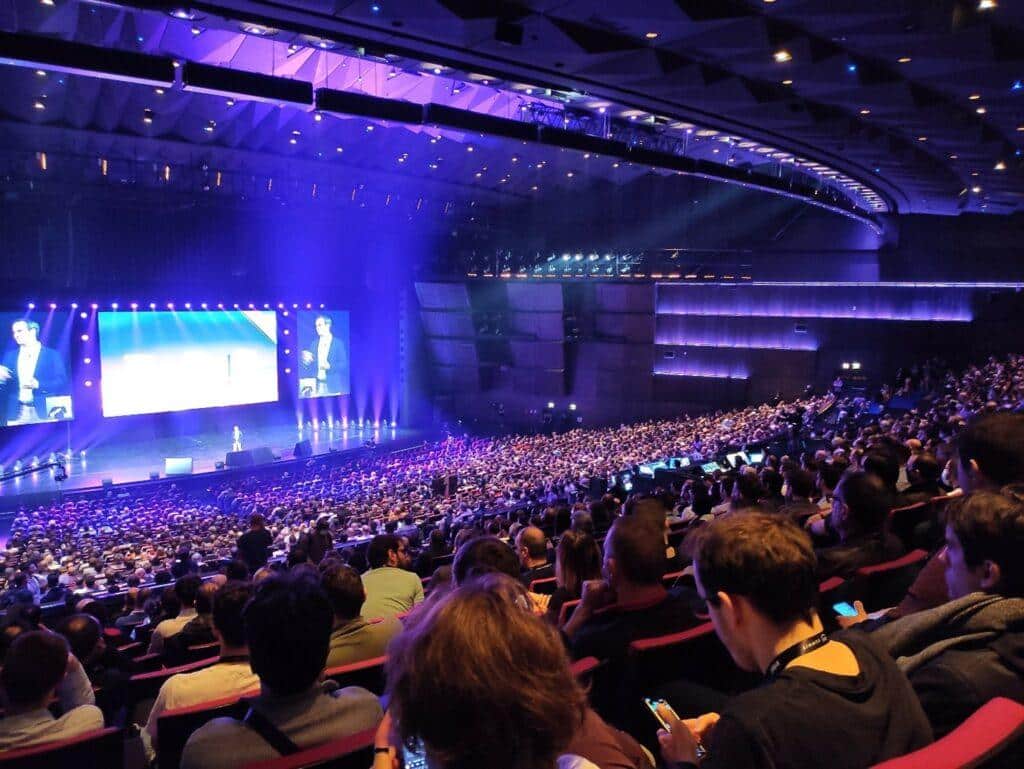 They came back with several unique insights about the event:
Key takeaways from the AWS Partner Summit
What was the most important takeaway from the event?
Olivier: AWS was promoting that co-sell with partners is extremely efficient from a business standpoint (100% increase in opportunity pipeline when working with partners). This is actually the DNA of broadpeak.io! To successfully build a video platform you need to include a large video ecosystem, and we are proud to have an extensive network of partners. One of our values is to be "easy to work with."
I really appreciated the session from Dataiku on everyday AI and co-sell benefits with the key messaging around the need to engage early and give cross visibility as soon as possible.
I had some engaging conversations with AWS Marketplace executives about the default requirements and pre-requisites, including self-service and public pricing, as well as the dedicated verification process. For any prospect or customer with an AWS account, purchasing is greatly facilitated. It confirms more or less what we already know as Broadpeak already proposes some modules on the AWS marketplace. We are still evaluating whether to do the same for broadpeak.io.
What were the biggest trends you noticed?
Olivier: The four strategic themes of 2022 — migration, data, innovation, and sustainability — resonated quite heavily with our mission, everything related to sustainability. Green IT seemed to be a recurrent theme for the entire event. AWS made a big statement about its desire to decarbonize and is announcing its ambitions in figures: net zero carbon by 2050. Today, AWS data centers emit 14.7 MtCO2, and they have been able to save 224.3 MtCO2 in recent years.
This is very in line with Broadpeak and the broadpeak.io mission for green streaming. As we stated recently in a blog post and in a video, energy efficient streaming is a big priority for us. We even co-founded "Greening of Streaming,"​ an industry organization that aims to quantify the impact of streaming on the environment and promote best practices and solutions to limit this impact.
Where is media and TV in the AWS roadmap?
Olivier: It was nice to see that media is growing and has recently moved into the eight most strategic verticals for AWS. Several times, AWS discussed how the pandemic accelerated the digital transformation. The TV industry, with more and more traffic, is one of the biggest beneficiaries of this evolution. The ecosystem is growing, and I met with Newsbridge, "The ultimate platform for next-gen media valorization," which is a cloud service running on AWS and providing AI-powered automated indexing of media (both assets and live content with few seconds of latency). They explained to me that for football, they had to retrain their video recognition models for faces covered with masks.
Insights from the AWS Summit
What was the most important point you got from the keynote?
Remi: On top of all the innovation (that is basically expected from AWS), I was surprised there was so much communication on the environmental aspect and energy efficiency.
Ludwig: One of the most important things I discovered is the diversity of tools that Amazon offers to facilitate the work of many companies. The fact that they are also looking for green energy solutions is a good initiative with their graviton processor, which uses little energy. One of the other aspects discussed was the security of user data using AWS tools.
What was the session you liked best and why?
Remi: There were two sessions that I really enjoyed:
The first session was "Transformer le load balancing pour optimiser le cache : objectif 50 millions d'utilisateurs" (that you can translate literally by "Transforming Load Balancing to Optimize Cache: 50 Million User Goal") by Guillaume Marchand (AWS) and Vincent Gallissot (Bedrock Streaming). They provided an overview on load balancing, listing all of the different architectures possible with the AWS LBs. Guillaume made a particular focus on the service Private Link, used when you need to connect VPCs privately without Peering VPC or Transit GW and when your VPS have similar IP addressing plan. The second part was presented by Vincent, and it really resonated with me. He covered the topic of video streaming, with a good step-by-step description of the optimization process and architectural diagrams. During the session, they both talked about the following HAproxy: https://github.com/BedrockStreaming/hsdo, describing challenges that we face every day, in particular related to caching, storage, and traffic. The premise was that using a basic round robin load balancer is not a good choice in front of a service that uses local caches. Bedrock Streaming added a layer of HAproxy doing consistent hashing to maximize cache hits. They are using 100% spot instances for cost optimization and monitoring the inter-AZ traffic as costs can pile up fast. The presentation slides are available online.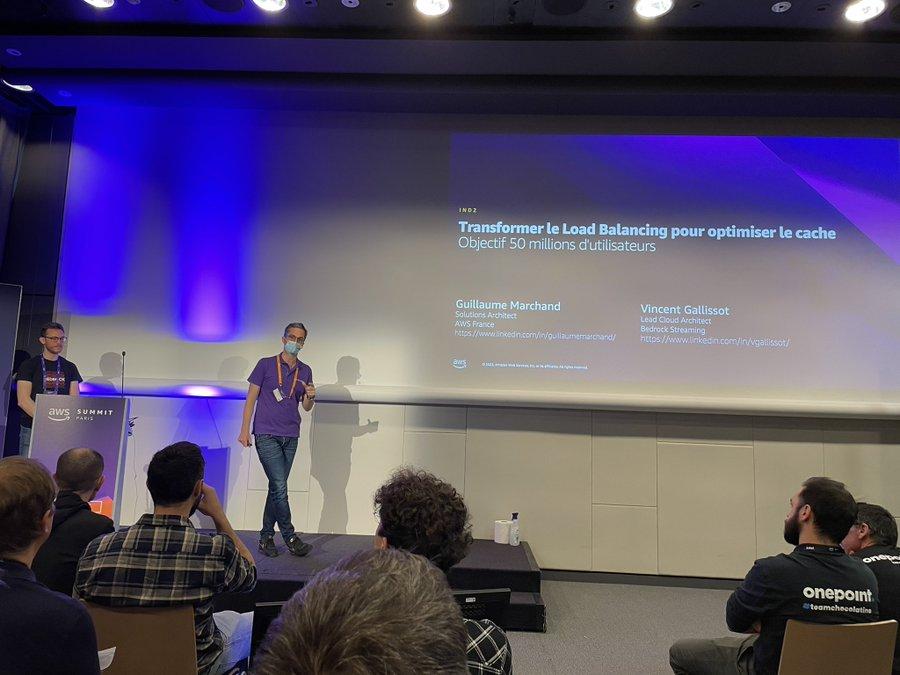 The other session I liked was "Comment protéger et améliorer votre application avec les services Edge d'AWS" ("How to Protect and Enhance Your Application with AWS Edge Services."). It followed the same recipe, providing of overview on edge services to optimize and protect an application, followed by a real-life use case. They described the AWS Global Accelerator and some Route53 rules (that we use too!) to specify, for example, routes setup based on the IP of the origin. The use case was presented by Guillaume Galliot from Winamax. He described their war against DDoS. It was both interesting and entertaining. They started with two private datacenters, slowly migrated to the AWS cloud, until a big attack made them accelerate their migration. They now use a combination of AWS Shield and some custom in-house level 7 filtering. In case of big DDoS attack they call the AWS DRT (DDoS Response Team), which can help shut down the attack. At broadpeak.io we are already using the standard AWS Shield DDoS protection through Cloudfront, but it is good to know the possibilities of AWS Shield advanced in case of big attack.
Ludwig: I was fascinated by the session "Qu'attendez-vous pour ajouter des capacités IA à vos applications ?" ("What Are You Waiting for to Add AI Capabilities to Your Applications?") presented by Sébastien Letemple from Newsbridge. This session examined usage of machine learning in the video domain; therefore, it related to our own activities at Broadpeak. I learned about the possibilities of AI with the different recognitions (i.e., face, text, logo, voice, etc.) and how AI technology has evolved. In the context of our activity, there are some overlaps. For example, we already have OCR functionality (live to text) in our packager, and we plan to propose an instantaneous translation of the content of video streams in various languages in instances where these translations are not present in the source video stream. But some features were new, such as automatically hiding advertising logos in video streams that are not intended for advertising.
Apart from the sessions, anything else you want to share about the event?
Remi: There was a lot to see. I enjoyed visiting the AWS partner booths and a few other small, interesting sessions on the startup corner. There were also some fun demonstrations on AWS DeepRacer and Formula 1.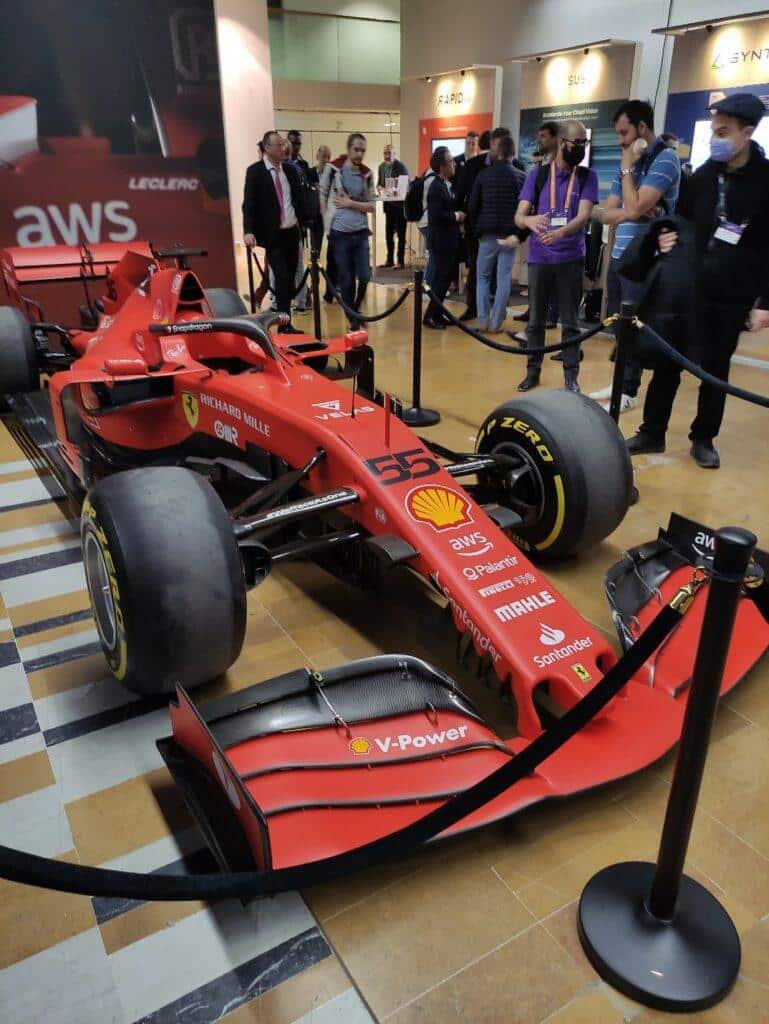 Ludwig: There were many AWS partner stands, with a great diversity of activity.
What will you retain from this day?
Remi: There was a lot of talk about security and data protection. Although we already have a strong focus on that it would be interesting to dive deeper into the services offered by AWS to harden our systems. Optimization through more use of edge capabilities like Cloudfront functions and Lambda@Edge will also be something to scrutinize.
Ludwig: Amazon offers an impressive range of various tools that can bring real added value to businesses. With the number of AWS partners, I could see the extent of the integration of AWS tools in the modern professional world.
Any last comment?
Remi: All in all, this was a nice event. I was amazed by the number of people in attendance (8000 to 10,000). The diversity of more than 90 different sessions ensured that there was a topic of interest for everyone. Even the buffet was good!
Ludwig: I enjoyed seeing some possibilities offered by AWS. Unfortunately, there were a lot of sessions, and I couldn't attend them all. For me, it was a very informative event, and I can confirm that the buffet was good. 🙂
Banner photo from Kizeo's blog