Welcome to this third episode of "Let's stack .io up!" a series of blog posts describing one component of our stack.
Today, we will walk you through finding the ideal solution to collect and prioritize customer feedback. We will discuss our requirements, the alternatives we looked at, and why Fider was the best option.
Fider is a feedback portal for feature requests and suggestions. It is an open-source solution initiated by Guilherme Oenning and continuously developed by many dedicated contributors.
What were our needs?
In today's competitive SaaS industry, customer feedback is a crucial tool to improve our products, services, and overall customer experience. In broadpeak.io's team, we strive to understand the needs and expectations of your customers.
Very early in the construction of our platform, we expressed the need to gather, organize, and prioritize customer feedback through a dedicated page designed specifically for this purpose.
We wanted a centralized system that could capture customers to enhance customer engagement and strengthen our relationships. We sought a user-friendly and customizable platform that seamlessly integrates into our existing systems to meet these objectives. And we were looking not to:
Redevelop a system ourselves; we prefer to focus on our core product.
Pass overtime regarding this page's integration, deployment, and management.
What did we consider?
To find the ideal solution, we looked at various feedback management platforms available in the market. We assessed their features, scalability, ease of use, security measures, and pricing models. We also examined the platforms' ability to facilitate stakeholder collaboration, provide data analytics and reporting functionalities, and offer customizable branding options.
Of course, we looked at different models. Three options were out there quickly:
Relying on our internal Backlog management tool, Jira, by using add-ons or the Confluence suite and "exposing" it, on top of internal stakeholders, to the external world.
Create an additional page to our broadpeak.io WordPress, with the build of the logic behind prioritization, etc…
Find a third-party tool/service.
In the criteria that we have looked for, the following ones were the most critical:
Ease of use: Getting feedback was important, but we were not looking to redevelop a solution on our own – it had to be something easy to install/configure/maintain to let a non-technical person take care of it (no-code/low-code was an option).
Branding: The key was a good integration with the rest of our public Internet "presence". It was essential to have a good inclusion in our existing suite of webpages, not something out of our domain pages that could be hard to find and access.
Privacy: We wanted to ensure the feedback could be done "anonymously" but that a system of notifications/follow-up could be possible.
What do we finally use?
During our evaluation, one of our team members shared that he liked the feedback page of Runalyse, a training analysis tool for athletes. Being an accomplished athlete himself, he was using the platform intensively and always wanted the capacity to share new ideas through the following page: https://ideas.runalyze.com/
We quickly looked at what was behind this page and identified Fider. We promptly determined that Fider was a no-brainer and the best fit for our needs.
Indeed, Fider is a robust, open-source feedback management platform that ticked all the boxes for us. The fact that it had a plan for a service fully hosted was just remarkable to save time on our side. It offered a user-friendly interface, allowing our customers to submit and upvote feedback easily. The platform's reporting features empowered us to extract valuable insights from the collected feedback. Additionally, Fider's flexibility allowed us to tailor the platform's branding to align with our company's visual identity by using our domain, which was great.
Soon after that, in just a few minutes, https://feedback.broadpeak.io/ was born.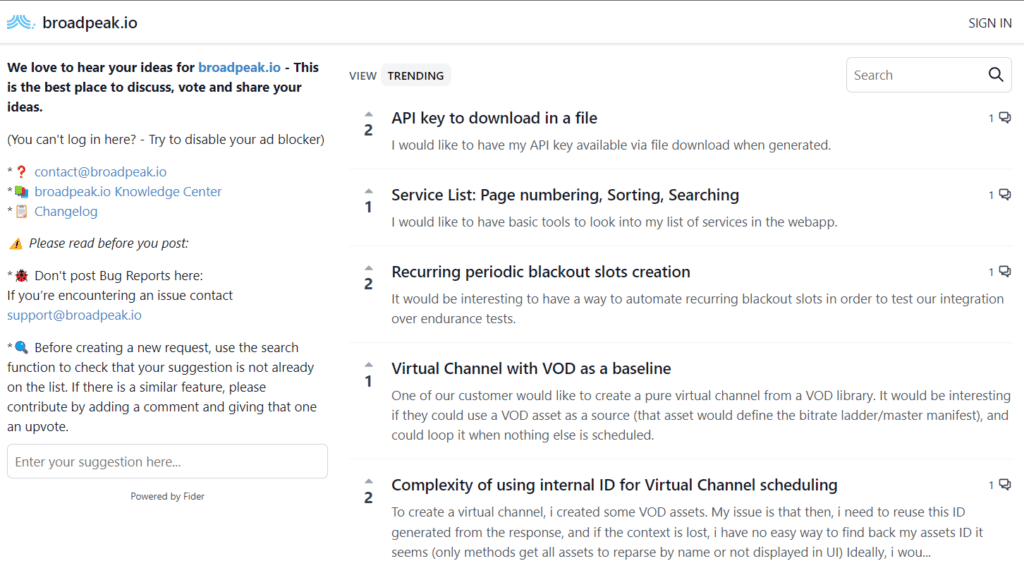 Next steps?
After successfully implementing Fider, we look forward to developing the next steps in our customer feedback journey. As of today, our Product Owner monitors the page, regularly analyzing feedback trends and patterns to ensure our products and services align with our customer's evolving needs. We intend to expand our use of Fider by integrating it with other business systems, like Jira (a tool we use internally to manage our backlog), to create a holistic feedback ecosystem.
Conclusion?
In the era of customer-centricity, a dedicated page to collect and prioritize customer feedback is a powerful tool for businesses. By implementing Fider as our chosen feedback management platform, we have embarked on a journey to enhance customer satisfaction and drive continuous improvement.
Among others, we have been experiencing the following benefits:
Armed with customers' insights, we can make data-driven decisions that align with our client's needs.
We believe we create inclusivity and transparency by providing them with a public platform to voice feedback.
We foster a customer-driven culture of innovation within our team.
As we move forward, we are excited about this platform's possibilities and positive impact on our business and our valued customers.
---
Did that piece of "behind the curtain" please you? Please let us know and stay tuned for another episode of "Let's stack .io up!".
Streamingly yours,
Mathias