Welcome to this second episode of "Let's stack .io up!" a series of blog posts describing one component of our stack.
In this blog post, we will take you through the journey of finding the perfect solution for the public real-time availability of our platform. We will highlight our needs, the alternatives we considered, and why we chose StatusPage. StatusPage is an American company founded in 2013 by the brothers Klein (Steve and Scott) and Danny Olinsky. The company was acquired by Atlassian (the owner of Jira) in 2016.
What were our needs?
At broadpeak.io, we understand the importance of clarity and transparent information for our users. Having a dedicated status page is a great way to contribute to this.
A status page is valuable for any business, organization, or individual relying on web-based services. It provides real-time information about the status and health of critical systems and services, allowing users to check the availability and performance of the tools quickly and efficiently they rely on.
Here are the needs we identified around this page:
1. Provide real-time updates on our system.
We wanted to be transparent with our users about the status of our services.
We were looking to communicate any issues or outages and provide updates on when we expect the problems to be resolved.
The idea was to keep our users informed and reduce the number of inquiries and support tickets we receive
2. Offer an easy-to-understand interface for users.
When our customers can quickly and easily check the status of one of our services, we believe they are more likely to trust the reliability of that service.
This helps build customer loyalty and improve overall organizational satisfaction.
3. Be easily customizable to match our brand.
It was not crucial to reinvent a Status Page per se, but it was necessary to quickly control how it looks to make it fit our design guidelines.
4. Integrate seamlessly with our existing infrastructure and tools.
What did we consider?
During our search, we considered several alternatives, including building our status page in-house and using other third-party solutions. Here's a quick overview of the options we explored:
Building an in-house status page: While this would give us complete control over the design and functionality, it would require significant development and maintenance resources. We prefer to have our developers focus on bringing more functionalities to customers.
Third-party solutions: We evaluated various status page providers, each with its own set of features, pricing models, and levels of customization.
We look at different criteria:
Real-Time Monitoring: The status page should display real-time information about the status of different systems and services.
Customization: A status page should reflect the brand image and personality of the organization. Therefore, customization options, such as the ability to add custom branding, fonts, and color themes, were necessary.
Notification System: A notification system is necessary to ensure users receive real-time updates on incidents. This can be achieved through email, SMS, or push notifications.
API Support: A status page should have an API allowing developers to integrate the status information into their systems and applications.
User Management: The status page should have a system that allows administrators to control access and permissions for different users, as we have multiple stakeholders in case of an incident (cockpit, NOC, different levels of 24×7 support).
What do we finally use?
After a thorough evaluation, we chose StatusPage. They met all our requirements and provided additional benefits that set them apart from the competition:
Real-time updates: We were able to provide users with up-to-the-minute information on system status and incidents, ensuring they always know what's happening with our platform.
User-friendly interface: The clean, intuitive interface of StatusPage makes it easy for our users to understand the status of our services immediately.
Customization: It offers a high level of customization, allowing us to tailor the look and feel of our status page to match our brand identity.
Seamless integration: StatusPage integrates with popular monitoring tools that we are using and supports a wide range of incident communication channels, ensuring that our team can easily manage the status page and keep users informed.
Powerful reporting and analytics: We can access valuable insights that help us identify trends, track incidents, and continuously improve our services.
Embedded StatusPage widget on other web pages.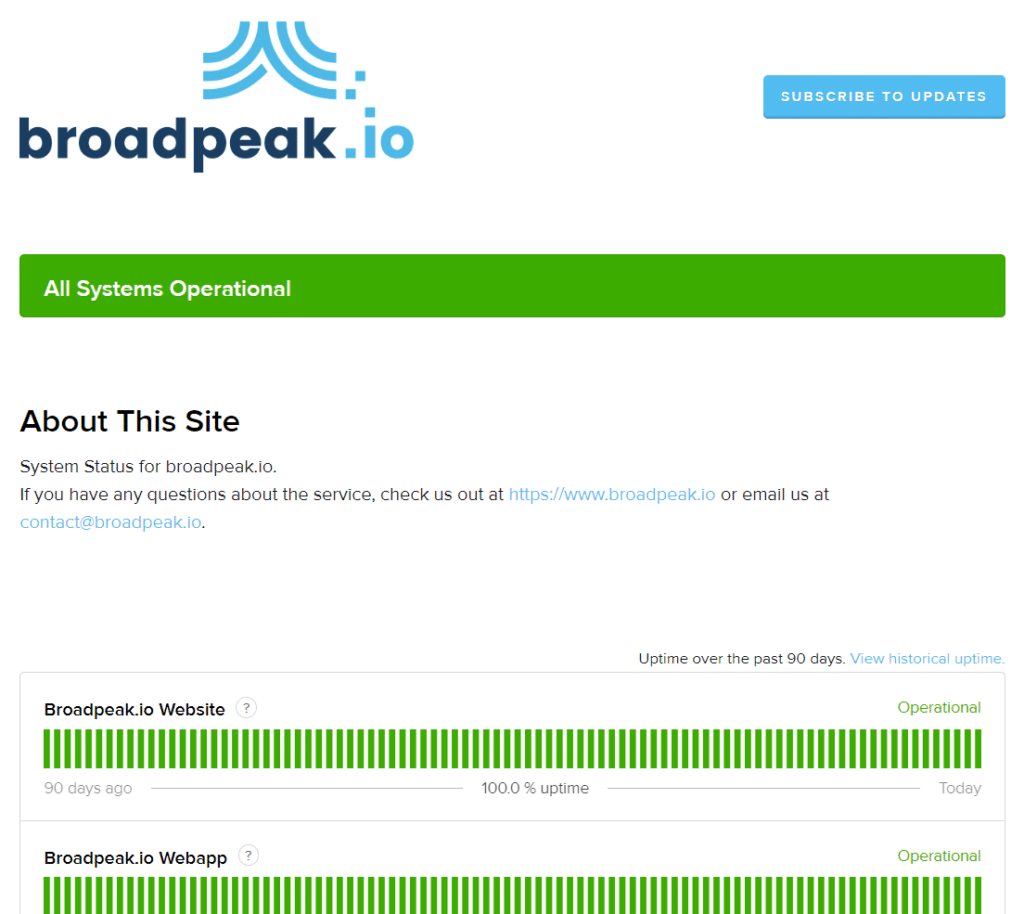 Next steps?
We have already extended StatusPage to some other Broadpeak SaaS, for example, for our peakVU.TV service in the US, but we think we can continue using it for other platforms we manage as part of our Managed Services offer.
We also plan to automate the communication around some incidents using tools like Jira or Datadog, which are already part of our stack, using API calls.
Conclusion?
In conclusion, we are very optimistic about the benefits of StatusPage. It helps build trust and transparency with our customers and keeps our team accountable for the different issues faced by the platform. We plan to continue relying on StatusPage and extend that across our other SaaS and Platforms.
Did that piece of "behind the curtain" please you? Please let us know and stay tuned for another episode of "Let's stack .io up!".
Streamingly yours,
Mathias